This week, we're featuring stories from this year's State of the Commons report, which highlights the impact of our global community by exploring the wide array of creativity and knowledge that is freely available to the world under under CC licenses. Read more about why this report marks our biggest year yet. 
---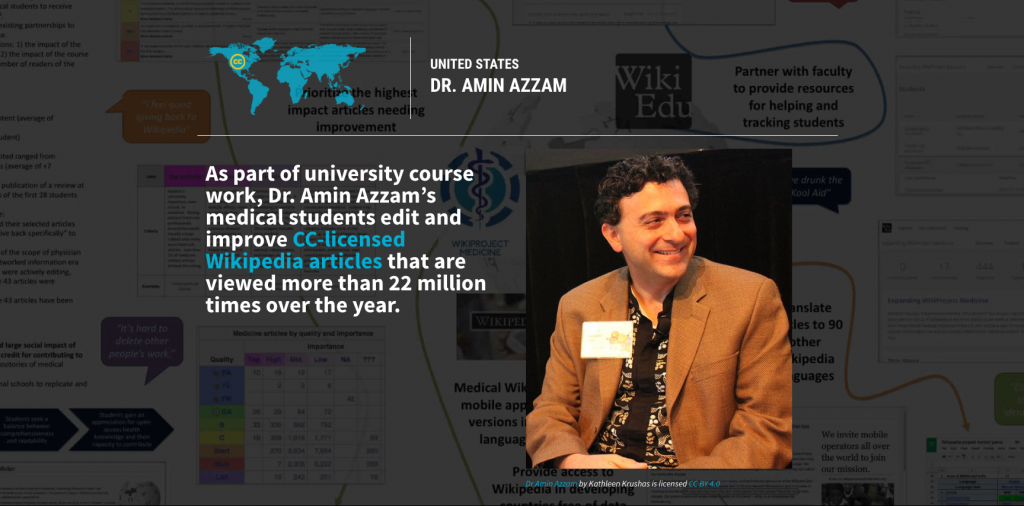 Supported by the Wiki Education Foundation, Azzam created a course for the UC Berkeley-UCSF Joint Medical Program that encourages and supports medical students in their efforts to edit Wikipedia articles on health-related topics. The impact of these students' work is described in a research article entitled, "Why Medical Schools Should Embrace Wikipedia: Final-Year Medical Student Contributions to Wikipedia Articles for Academic Credit at One School," which was published in Academic Medicine, a top academic medical journal.
Medical and health-related articles on Wikipedia are among the top articles viewed by the general public. The articles edited and improved by the medical students in Dr. Azzam's course were viewed 1.1 million times during the two months that the students were actively editing the articles. The 42 articles have been collectively viewed over 22 million times over the past year.
Azzam's work established a course based solely on open educational practice, which resulted in new works being added to the commons and existing works being adapted via Wikipedia.