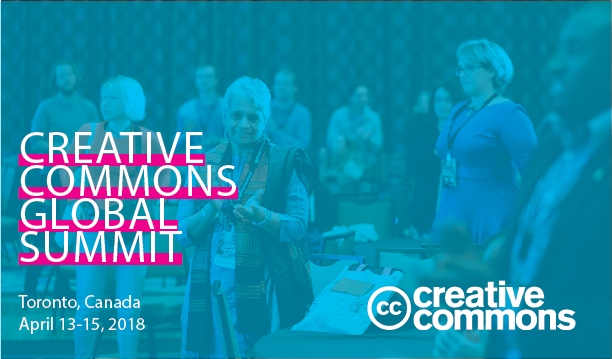 We are proud to announce that the 2018 CC Summit will be in Toronto, Canada from April 13-15. This is a return to Toronto, which allows us to build on last year's successful sold-out event. As part of our new strategy, CC has moved to annual summits to help build our community capacity and momentum, and we're thrilled to be bringing people together again to support global collaboration and action.
For the 2017 Summit, CC selected Toronto as our location, and underscored a strong commitment to presenting a community-driven event. We divided up the work: CC provided the "container" — venue, catering, audio-visual, website, promotion, travel support, and other logistics — and the community "filled it" with the program, people, activities, and discussions that make our movement vibrant and engaging. It's a busy season for conferences, but we've been able to fit into the timeline between other key community events like RightsCon and the Open Knowledge Festival.
Based on what we learned at the CC Summit in Seoul in 2015, we hired a full-time events manager to run logistics and ensure we had a world-class event. We also re-focused our scholarship funds to ensure we helped as many community members as possible to join us.
The improvements were noticeable and profound:
42 community members led the development of the program, and selected over 100 sessions, with a mix of long standing community members and brand new participants
The conference sold out well in advance, with nearly 400 registered participants — our largest summit ever
We had five incredible international women scheduled as keynotes (4 in the end due to a late-cancelled flight), and not a single all-male panel
Nearly 60 percent of our scholarship funding supported African and Latin American region participants. We doubled the number of participants from Africa
As we plan for 2018, we have decided to return to Toronto. There are a variety of factors that make it a great destination along with some additional factors to consider. We expect Summit 2018 will exceed 500 participants, and also host the first meeting of the new Global Network Council. We want to build and iterate on what we learned in Toronto about running a great and inclusive event. The Canadian dollar continues to be low, which increases our purchasing power. The Delta Hotel, which did a spectacular job for us, is available to host us again. Many of the participants who got visas have them for terms long enough to permit a return next year. Finally, in this year of transition, there are very few teams that have the capacity to deliver an event of this size in just 11 months without significant support from CC HQ — most teams are (rightly) focused on their core work, not event planning.
With all of these considerations, we are very excited to return to Toronto, Canada for the CC Summit, scheduled for April 13-15, 2018.
Historically, CC has located the Summit at various venues around the world — Boston, Rio de Janeiro, Dubrovnik, Sapporo, Warsaw, Buenos Aires, Seoul. There are advantages and challenges of this solution. I'm excited about the opportunity to build on what we learned in 2017 — to iterate and remix the city for an even better event.
That said, this year's decision to return to Toronto does not preclude the idea of future Summits being hosted in other locations. We expect the Global Network Council to help us think through our options for future summits. Many of you provided helpful criticism and feedback based on Toronto's event. We'll make a strong effort to incorporate those comments in our planning as we iterate and improve for the next event. In particular, several of you asked for more affordable hotel options. We'll be adding a second conference hotel to ensure you have more choices.
As with 2017, CC will provide the "container" and the community will "fill it" with its energy, activities, and momentum. We'll be opening a call for the planning committee in the coming months, and welcome your ideas for an even bigger, better, inclusive event. We can't wait.
Photo: Sebastiaan ter Burg, CC BY 2.0