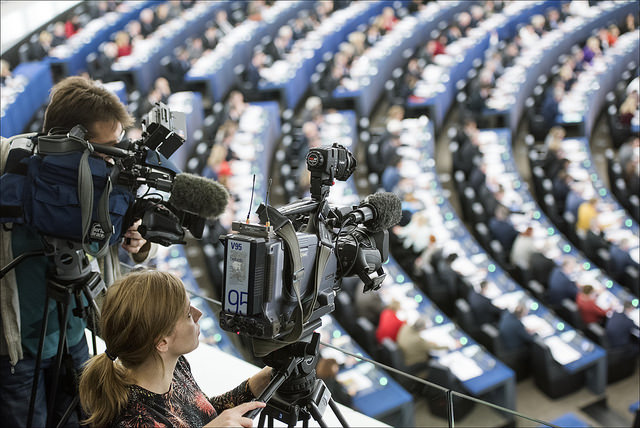 In September 2018 the European Parliament voted to approve drastic changes to copyright law that would negatively affect creativity, freedom of expression, research, and sharing across the EU. Over the last few months the Parliament, Commission, and Council (representing the Member State governments) were engaged in secret talks to come up with a reconciled version of the copyright directive text.
The closed-door "trilogue" negotiations are now complete and a final compromise has been reached. The text is not yet published but MEP Julia Reda has shared unofficial versions of Article 13 (upload filters) and Article 11 (press publishers right). Both of these carried through with no major improvements on behalf of user rights and the public interest.
Article 13 and 11: Still bad (or worse) for creators and users
It's more clear than ever: Article 13 will require nearly all for-profit web platforms that permit user uploads to install copyright filters and censor content. While there was an earlier version that included an exclusion for small companies, that provision has been reeled in. Now only services that have been operating for less than 3 years, with annual revenue below €10 million, and with fewer than 5 million unique visitors each month, will be excluded from the rule. And the filters need to process all types of content — from music to text to images to software — anything that can be protected by copyright. If platforms don't take action, they assume liability for what their uses publish online. This will surely harm creativity and freedom of expression in Europe. Some types of services will be exempted, for example Wikipedia, or open source software platforms such as GitHub. But for the vast majority of online platforms in Europe this will mean more regulatory burden and costs, and it will make it more difficult to compete with the big established platforms.
Article 11 got no better. It would force news aggregators to pay publishers for linking to their stories. The counterproductive press publishers right would last for 2 years. The text claims that the right will not apply to "individual words or very short extracts of a press publication." At least openly licensed works such as those under Creative Commons or in the public domain would be exempted.
What's next?
The final text of the directive will be released soon. While the trilogue negotiators focused on Articles 13 and 11, there were some productive changes that will improve the situation of the commons, cultural heritage, and research sectors. For example, we know that the negotiators agreed upon a provision to ensure that reproductions of works in the public domain will also be in the public domain. They included text to improve the ability for cultural heritage institutions to better serve their users online. And the negotiators slightly improved the exception on text and data mining by making mandatory an earlier optional provision that would expand the possibilities for those wishing to conduct TDM.
The European Parliament elections are coming up in May, and the existing Parliament will vote on the final text of the copyright directive beforehand. The plenary vote will take place between late-March and mid-April. This is when all 751 MEPs will get a chance to vote Yes or No on adopting the text as finalised by the trilogue.
With Article 13, it's no exaggeration to say that it'll fundamentally change the way people are able to use the internet and share online. And the European copyright changes will affect how copyright develops in the rest of the world. Even with some of the minor improvements to other aspects of the copyright file, it's hard to see how the reform — taken as a whole — will be a net gain except for the most powerful special interests.
There is still time to make your voice heard on stopping the harmful upload filters and press publishers right. If you're in Europe, visit www.saveyourinternet.eu to get more information and contact your MEPs before the vote.