Public domain advocates celebrated on January 1 because, for the second year in a row, published works newly entered the public domain in the United States due to copyright expiration.
To mark the occasion, Creative Commons (CC) collaborated with the Internet Archive, the Program on Information Justice and Intellectual Property, Creative Commons USA, the Institute for Intellectual Property & Social Justice, and SPARC to hold the Public Domain Day (PDD) celebration on January 30 at the American University Washington College of Law. 
"This is a 'good news' story," exclaimed Brewster Kahle (Founder and Digital Librarian, Internet Archive) at the start of the 1920s themed soiree, "Another year of the public domain!"
Celebrating another year of the public domain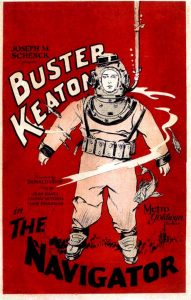 Indeed, there is a reason to celebrate. As we noted last year, January 2019 marked the first time works entered the public domain since the 1998 Copyright Term Extension Act—which extended copyright terms "to the life of the author plus 70 years, and for works of corporate authorship to 120 years after creation or 95 years after publication, whichever end is earlier." 
The Copyright Term Extension Act ultimately halted the flow of published works into the public domain for 20 years. "The celebration of the public domain used to be a sad affair…," remarked panelist Julia Reda (Fellow, Berkman Klein Center for Internet and Society). However, as of 1 January 2019, works from 1923 became freely accessible and reusable by anyone, anywhere. This year, works from 1924 followed suit; from George Gershwin's Rhapsody in Blue to Buster Keaton's The Navigator.
"We have to be constantly vigilant. Settled expectations can be disrupted, and thus need to be defended." Michael Carroll
Despite the progress that's been made since the re-opening of the public domain, Reda told attendees that they still have to create "strategies to limit the damage of long copyright terms."
Echoing Reda's concern that the public domain is still at risk, panelist Michael Carroll (Director, Program on Information Justice and Intellectual Property, American University Washington College of Law) warned, "We have to be constantly vigilant. Settled expectations can be disrupted, and thus need to be defended." 
Contributing to the public domain through art
Beyond providing an important discussion space for public domain advocates and researchers, we also wanted to highlight the work of artists who contribute to the public domain. Therefore, we were excited to showcase the creative works of six local artists: Darnell Gardner, David Amoroso, Laci Jordan, Naturel, Rikasso, and Tenbeete Solomon. These artists were asked to "remix" art in the public domain and invited to share their creative process during the event.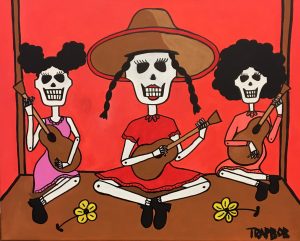 For example, Tenbeete Solomon, aka Trapbob, remixed Diego Rivera's 1924 piece, Day of the Dead. "I love the celebration of something that's dark," explained Solomon, "[I wanted to] bring the piece into the now, so I decided to make women the focal point."
When asked what he would like to ask the artist of the original piece, Natural, who remixed  Contrasts by Kandinsky Vasily, responded, "How would it feel to know your work is being shared with the world a second time?" 
Too important to "protect"
As the event drew to a close, many attendees were left wondering what's in store for the public domain. Although its future appears secure and stable for now, that can quickly change. Further, panelist Amanda Levendowski (Director, Intellectual Property and Information Policy Clinic,  Georgetown University) pointed out that the public domain remains largely "white, wealthy, and Western." With this in mind, perhaps it's time to reframe and broaden the fight for the public domain as a global fight for "user rights" and "free speech."
The public domain should be a treasure trove of humanity's remixes; artifacts that are arguably too important to be "protected" by copyright because we all benefit when knowledge, culture, and history are made accessible and shareable.
"Everything we do is a remix," Natural remarked, "we need cultural anchors to communicate."
To watch and listen to all of the presentations and panels from the 2020 Public Domain Day celebration, access the webcast here. Thank you again to all of our collaborators for this event, as well as the participants and attendees. See you next year!