Creative Commons is proud to announce six winning project proposals from the inaugural round of the CC Open Education Platform Activities Fund!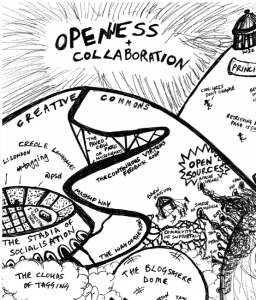 The CC Open Education Platform is a vibrant, international network of over 1120 open education advocates, educators, librarians, lawmakers, graduate students, and more, spanning 79 countries. This year, CC launched an activities fund to support Platform members' good work to further open education in their countries. The activities fund offered up to $5,000 USD to community members who proposed efforts that: 1) Build and sustain community; 2) Increase educational access and equity; and/or 3) Use policy to open education opportunities for all. Accepted proposals focus on work supporting these goals in Brazil, Chile, Francophone Africa, India, Ireland, and globally. 
While we would have liked to fund nearly all of the projects, we are delighted to announce the following proposal winners: 
---
"Teaching materials introducing copyright to 9 to 15-year-olds in French-speaking Africa."
Proposed by Isla Haddow-Flood and Florence Devouard (at Wiki In Africa), this project will create and pilot introductory materials and assignment models to support teachers instructing 9-15-year-old students in French-speaking Africa about CC licenses and their use. Across Africa, teachers do not have access to online materials to explain Copyright or CC licenses to their students, and especially not in French. The materials created will begin to fill the gap. The materials will be initially piloted in Benin as part of the WikiChallenge Bénin competition. The project will integrate feedback initial testing before distributing teaching materials among the Wikimedia and CC communities across Francophone Africa. 
"Inventory and evaluation of existing social-emotional learning resources for the transition to open digital learning."
Shivi Chandra proposed this project recognizing that a global mandate for "twenty-first century skills" has pushed social-emotional learning (SEL) materials–those which promote "well-being, connectedness, and success" (OECD)–to the forefront of many national educational strategies working to help students make sense of recent global crises, social movements, and COVID-19. These materials could be anything from public health guidance to conversation starters on domestic violence to current events news articles for kids.This project from Learning Equality will develop and share a gap analysis and preliminary audit of existing SEL resources either open or accessible on the internet. This work supports any organization looking to improve their general understanding of SEL resources, understand those available, advocate for openness in the SEL community, and develop such resources during and post COVID-19.
"Oficinas Wikimedia & Educação: a educação livre no Brasil e as plataformas Wikimedia (EN: Wikimedia & Education Workshops: free education in Brazil and the Wikimedia platforms).
Giovanna Fontenelle proposed this project to help Brazilian educators and institutions searching for new formats and teaching alternatives. The Wiki Movimento Brasil User Group will organize a series of online workshops and develop accompanying resources such as an audio description for an educational brochure, open-licensed videos of the workshops, reference materials for educators, participant lists for networking, and Outreach Dashboard metrics.
"Open Reading Lists @UCD: Phase One."
Proposed by Susan Reilly, this project will offer a training and mobilisation workshop for librarians supporting a shift to OER, an awareness-raising campaign targeted at faculty and course coordinators, and a video tutorial on finding and assessing OER. The rapid shift to online and blended learning necessitated by COVID-19 demonstrated the need for more open and participatory engagement online and more sustainable access to diverse learning materials. This project aims to increase OER as a percentage of material on reading lists in University College Dublin, Ireland. 
"Offline OER to enhance K-12 math in Chile."
Werner Westermann proposed this project to help deliver customized OER content, responsive and aligned to the official Chilean "prioritized" curriculum, a core group of learning outcomes for math, highlighted during school disruption during COVID-19. Ideally, this curriculum will be used to support learners using Kolibri, meeting the needs of learners with limited or no Internet connectivity during COVID-19 and beyond.
"Open Pathology Education Project."
Netha Hussain proposed this project focused on curating and annotating pathology images from Wikimedia Commons. Drawing from India's Calicut Medical College and Dr. Yale Rosen's collections, this project will use Wikidata as a tool to organize and categorize images for medical students to use as educational resources. As Wikidata doesn't yet have robust pathology related information, images and descriptions from Wikimedia Commons will be first linked with Wikidata, and then used for the Open Pathology Project. The final resource will serve medical students from around the world.
We are delighted to fund projects that range from work with off-line open math and developing OER for medical education to fueling additional work with sister communities such as Wikimedia. 
We also want to recognize our decision committee (listed alphabetically), members of the CC Open Education Platform who dedicated hours to application review—difficult job considering they read, scored, and deliberated over 20 amazing proposals from platform members.
Cindy Domaika

Geoff Cain

John Okewole

Jonathan Poritz

Mohammed Galib Hasan

Neil Butcher

Paola Corti

Paul West

Rachel Wexelbaum

Shanna Hollich
To our decision committee, platform colleagues who submitted inspiring proposals, and the fantastic CC Open Education Platform community—thank you! We look forward to seeing project results in December 2020, and we expect these projects to fuel more open education advancements in 2021 and beyond.