Until recently, I had never heard of the sea shanty "The Wellerman". My sea shanty repertoire consisted of "What can you do with a drunken sailor" to sea-songs on the soundtrack of Master and Commander. However, Nathan Evans, a fellow Scot who hails, like me, from North Lanarkshire, has changed all of this. His rendition of "The Wellerman" went viral, with people building on the song through duets and remixes. (Even Kermit the Frog made a version!)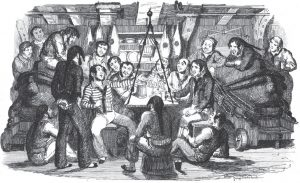 Sea shanties have caught the public imagination. Perhaps it is because the thought of an adventure at sea is a magical escape during a global pandemic. When we can't sing together, play music, or go to a live performance in person, our experiences in the physical world are restricted. Our experiences in the virtual world, however, are expanding. This burst of creativity is enriching the public domain. Globally, people are inspired to remix, rework, and re-use cultural content with life-changing effects. After his sea shanty rendition went viral on TikTok, Nathan was signed by Polydor Records, with his debut single reaching number three in the UK charts.
The public domain is a shining light in today's darkness, but it is not guaranteed.
It is important to note that this flourishing creative scene is only possible because sea shanties are in the public domain—not under restrictive copyright rules. Therefore, they can be played, reused, dueted, remixed, and transformed. This, combined with the internet, means a postal worker in Airdrie can reach a global audience within seconds. Thanks to emerging technologies and social platforms, the public domain can both enable creativity and benefit from it with the invention of new works that are also free of copyright restrictions. (The hope is that these new works are put back into the public domain!) This expressiveness in new works and collaborations is bringing joy and uplifting our spirits as we continue to face daunting challenges.
The public domain is a shining light in today's darkness, but it is not guaranteed. This year, for example, marked only the third year in a row in which published works entered the public domain due to copyright expiration in the United States following the 1998 Copyright Term Extension Act. In many countries, similar acts have extended copyright protection, restricting the ability of the public to reuse, remix, and re-share creative works. Further, at Creative Commons, we believe that some works are too important to be protected by copyright, such as digitized cultural artefacts or scientific research. That's one reason we created Creative Commons Zero, a public domain mark that anyone can use to "opt-out of copyright and database protection." 
We all benefit when knowledge, culture, and history are made accessible and shareable, that's why we must protect the public domain and continue to advocate for open access to knowledge and culture. Whether it is sea shanties today or Gaelic boat songs tomorrow, the public domain is ours and ours alone, no matter where you are in the world. For this, we should be truly grateful.