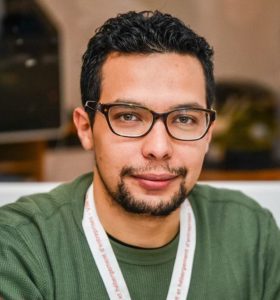 We launched the 'Meet the CC Summit Presenter' series to introduce the CC community to our fantastic presenters at this year's CC Global Summit, taking place September 20-24. Next up, we sit down with Arturo Sánchez Pineda. Arturo is a Venezuelan researcher (PhD) in physics, computer science and education. He lives in Europe and develops his professional and outreach activities at CERN, LAPP, and ICTP in Switzerland, France, and Italy. Some of the relevant activities in the OER area are the management of the ATLAS Open Data project for Education at CERN, the coordination of the CEVALE2VE, being a member of the EU Horizon 2020 project called ESCAPE, and the EU ERASMUS+ project LA-CoNGA physics. He is also the co-founder and GNC representative of the Creative Commons Venezuela Chapter. In general, he always tries to teach and outreach what he learns. In his opinion, the best way to contribute to the Creative Commons objectives and society has been through education. Find out more at https://www.youtube.com/c/ArturoSanchezArtara.
Based in📍: Geneva, Switzerland
Summit Session: Open Source & Open Access: from United Nations Agencies to Open Educational Programs in the Americas
How did you get involved with Creative Commons?
I had the opportunity to be interviewed by Creative Commons about our Open Access program for ATLAS Collaboration at CERN (read it here), and from there, I started to interact with CC constantly!
How many times have you been to CC Global Summit?
Four times (since 2017).
What was your favorite CC Global Summit? (if applicable)
Lisbon 2019
In the future, what is something you would like to see at the CC Summit?
More hands-on workshops for those new in Open Access tools and resources.
Why are you an advocate for Open?
Open has been the only way I know that education and science are done, so I keep doing it for the global community, or at least I try.
"International cooperation is possible and necessary for equity and progress in education around the world. And Open Access is real."
What is your proudest achievement?
Being part of truly global communities where I am never the smartest guy in the room.
What is the best part of what you do? What is the most difficult part of what you do?
The best part is reaching so many people, and the most difficult part is figuring out how to reach more people.
What tool/platform/app are you loving right now?
Discord. It allows me to organize engaging events and fully operational teams.
What is the biggest setback you have experienced? How did you overcome it?
The usage and outreach of the Open Software, less on the technical side, but as a tool for economic and social development in the global south.
If you could only leave people with one message from your summit presentation, what would it be?
International cooperation is possible and necessary for equity and progress in education around the world. And Open Access is real.
What was the best career advice you ever received? What was the worst career advice you ever received?
My best career advice was from one of my grandma's in Spanish dele, which translates as "continue with what you are doing, it remains less than when you started." And the worst… I do not remember it.
What would you like to say to Creative Commons on our 20th anniversary?
You are truly global, let's embrace that.
What does 'Better Sharing, Brighter Future' mean to you?
 Sharing without documentation — on-boarding and outreach is not really sharing.
Haven't had a chance to register for the 2021 Global Summit yet? Register here >>