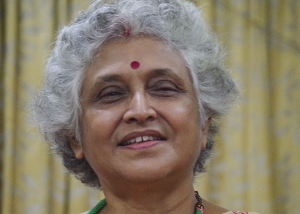 Next up in our 'Meet the CC Summit Presenter' series, Subha Das Mollick tells us what she's looking forward to at the summit. Subha, a media teacher and documentary filmmaker, has explored various subjects in her films. A post graduate in Physics, she switched over to media after more than ten years of teaching Physics at the undergraduate level. She has been the head of the Film Studies and Mass Communication Deptt. at the St. Xavier's College, Kolkata, and nurtured the twin departments at their stages of infancy. She has also been the head of the Media Science Department at iLEAD Institute. She has been the principal instructor for two online courses on the SWAYAM Platform. Presently, she is a visiting faculty at Maulana Abul Kalam Azad University of Technology, Viswa Bharati University and Aliah University. As the founder secretary of Bichitra Pathshala, she has been developing the pedagogy for effective use of moving images in teaching learning designs. 
Her recent independent productions "Calcutta Sonata" and "Dwelling in Travelling" have been critically acclaimed in the festival circuit and bagged some prestigious awards. Her film "Promising Plastic Polymers" won the Bronze Beaver Award at the 9th National Science Film Festival organized by Vigyan Prasar, and also a special award at the Eco Art Contest organized by American Centre and SAFE. She is also an avid writer. Her recent publication is Schools of Kolkata: Weaving Magic in Education (Volumes I & II), Published by Sampark.
Based in📍: Kolkata, India
Summit Session: THE MEDIA GAME: A media literacy project for school students
How many times have you been to CC Global Summit?
This will be my first time. 
In the future, what is something you would like to see at the CC Summit?
I would like CC to facilitate the sharing of resources between people of the same profession.
Why are you an advocate for Open?
Unless knowledge is made open, the world will not be flat. It will not be a playground of equal opportunities. 
"Open sharing will brighten everybody's future. The giver will be gratified, the receiver will be grateful.
What is your proudest achievement?
When my students excel in their respective professions, I can say proudly, "Look, so-and-so has been my student". 
What is the best part of what you do? What is the most difficult part of what you do?
As far as filmmaking is concerned, the best part is scripting, and the most difficult part is executing the script. 
What is the biggest setback you have experienced? How did you overcome it?
The biggest setback I faced was not getting international funding for a documentary film on the Indo-Bangladesh border after pitching twice at the international forum. It made me realize that my craft was not of international standard. Eventually, I made the film with my own funds, and I tried my best to improve my craft.
If you could only leave people with one message from your summit presentation, what would it be?
"Consume your media with more than a pinch of salt."
What was the best career advice you ever received? 
Best advice: "When you show a rough cut to your client, make it as finished as you can".
What would you like to say to Creative Commons on our 20th anniversary?
Welcome to adulthood. Let us continue to grow together.
What does 'Better Sharing, Brighter Future' mean to you?
It means that open sharing will brighten everybody's future. The giver will be gratified, the receiver will be grateful. 
Secure your spot at the 2021 CC Global Summit taking place September 20-24! REGISTER HERE >>