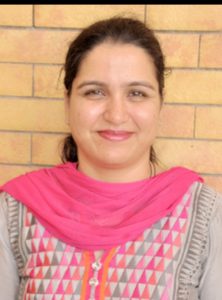 The countdown to the 2021 CC Global Summit continues! Next up in our 'Meet the CC Summit Presenter' series, we have Dr. Kavita Batra. An assistant Professor at Manohar Memorial College of Education, Fatehabad, Haryana India, Dr. Kavita has worked as teacher educator for the last fourteen years. She is passionate about the integration of technology in education and equipping future teachers with the knowledge of educational tools so that they can serve society in a better way.
Based in📍: Fatehabad, India
Summit Session: Improving Assessment through Bloom's Taxonomy and Rubrics
How did you get involved with Creative Commons?
Through the creation of OER under the UNESCO's open education for better world online mentoring program
How many times have you been to CC Global Summit?
It is my very first time.
Why are you an advocate for Open?
Sharing is Caring!
What is your proudest achievement?
Releasing my first MOOC on Improving Assessment through Bloom's Taxonomy and Rubrics.
What is the best part of what you do? What is the most difficult part of what you do?
I like teaching with the story telling method, and it is the best part of my work, but sometimes I find it a little bit difficult to animate my stories.
What is your favorite GIF?
What tool/platform/app are you loving right now?
I love the Padlet because my students enjoy collaborative learning.
What is the biggest setback you have experienced? How did you overcome it?
When people at administrative level don't understand opinions on a progressive level, my positive mindset helps me a lot.
If you could only leave people with one message from your summit presentation, what would it be?
Accept and Love yourself, and keep on moving.
What was the best career advice you ever received? 
I received my best career advice from my Father, "Listen to everyone, but do whatever your mind tells."
What would you like to say to Creative Commons on our 20th anniversary?
Keep up the good work. 
What does 'Better Sharing, Brighter Future' mean to you?
Sharing the wisdom, Radiating the Happiness…makes the world shine.
Whether you're an activist, advocate, librarian, educator, lawyer, creator, or technologist, the 2021 CC Global Summit has got you covered. Join us September 20 – 24! Register here >>