Reimagine Open Culture with the Newly Relaunched Curationist.org
Open Culture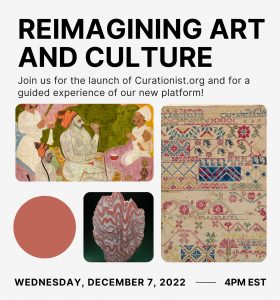 Exciting news — an initiative of the MHz Foundation, Curationist.org, a free-to-use platform that connects users to over 4.4 million digital artworks and cultural objects, recently relaunched with some amazing new features. On 7 December, they will host a guided experience of the new platform, and we hope to see you there. Register now.
The webinar will celebrate open access arts and culture as a vital digital tool for reimagining cultural narratives, challenging historical inequalities, and creating vibrant ecosystems of shared knowledge. As well as providing an opportunity to explore potential ways to bring open source metadata directly to the communities who created and care for their art and artifacts, this also allows for a more efficient and effective way to manage and catalog these items.  
You will have the chance to hear from members of the Curationist team and free knowledge movement, including DEI metadata consultant Sharon Mizota, Local Contexts' Jane Anderson, and Curationist board member Manu Chander.
At launch, users will be able to explore Curationist's ever-growing archive of public domain and open access artifacts and artworks, and to peruse the critical perspectives and fresh takes published in our editorial features.


Posted 02 December 2022
Tags
Related posts