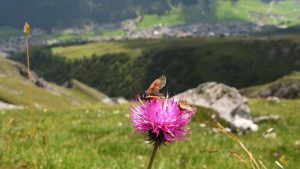 Creative Commons is in Davos this week for the World Economic Forum (WEF). While CC is not (yet) a formal member of the forum, there is extensive programming available to the public that touches on our work. As we strive to strengthen the voice of civil society and promote better sharing of knowledge and culture in the public interest, we feel it's critical to ensure CC's values of openness, access, collaboration, sustainability, creativity, equity, inclusivity, and diversity are taken into account in WEF conversations, especially those around emerging technology. It is imperative that we steer these discussions — and ultimately the development of new technology — to support better sharing.
I'm fortunate to be able to attend this week of public programming, alongside Brigitte Vézina, CC's Director of Policy and Open Culture. We recognize the privilege of representing CC, and look forward to a week of learning, listening, and partnership. While we are in Davos, CC's CEO Catherine Stihler is participating in this year's launch event of the Morgridge Acceleration Program, for which she is one of twelve selected mentors.
While we are here we are for critical listening and making new connections, we've also got the opportunity to speak about open culture, the importance of strengthening the public domain, and better sharing. Our work is guided by how we see better sharing:
Sharing that is inclusive, just and equitable — where everyone has a wide opportunity to access content, contribute their own creativity, and receive recognition and rewards for their contributions.
Sharing that is reciprocal — where we rebalance the skewed world we live in now, in which a few produce and profit from works that the many consume.
Sharing that is sustainable — where open participation in the public commons is the default, rather than the exception.
Open Culture: From Web2 to a Better Internet
Today (Monday 16 January) Brigitte will be joining a panel of experts to discuss the evolution of the web. On Thursday 19 January, Brigitte will take the stage for a Lightning Keynote on Open Culture to discuss the challenges of the current digital space for open culture and concrete actions to shape a better internet, based on CC's new global open culture call to action.
If we want to address the world's most pressing problems, enable people to lead richer lives, and build a sustainable future for all, we need to unlock the possibilities of the digital age to preserve, share, and reuse cultural heritage free from undue restrictions. CC's five key open culture policy actions are:
Protect the public domain from erosion
Reduce the term of copyright protection
Legally allow necessary activities of cultural heritage institutions
Shield cultural heritage institutions from liability
Ensure respect, equity, and inclusivity
Generative AI & Other Emerging Technologies
In addition to formal speaking engagements, we have a purposeful learning agenda during our time in Davos. There are formal sessions and ad hoc meetings taking place around open and decentralized science, open standards in the metaverse, and the explosion of generative artificial intelligence (AI). Whether chat, image, or video, new AI systems are turning heads and raising thorny questions around creators, users, copyright, and remuneration.
As we build on the AI policy and advocacy work we emphasized last year, we'll work to lead conversations on how we can protect creators and users from harms, while harnessing a new technology to enhance our global digital commons and work in the public interest. Our guiding questions continue to be: How does the proliferation of AI connect to better sharing? And how does AI connect to a public interest vision for a better internet?
If you'd like to catch up while we're in Davos please get in touch!