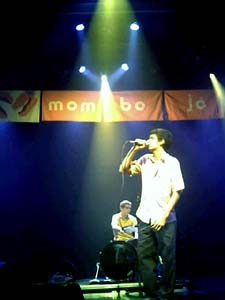 Ronaldo Lemos, project lead extraordinaire of Creative Commons Brazil, reports:
Mombojó is one of the most interesting new bands in Brazil. They mix traditional Brazilian music like samba and bossa nova with electronic beats and rock. Their album, "Nadadenovo" (meaning: "nothing new"), is available online at www.mombojo.com.br. Even if they say there is "nothing new" about their music, that is not true. They are responsible for indicating new bold directions to Brazilian music.
Mombojó is an enthusiast of the Creative Commons. They have just announced that one of their tracks, "Nem Parece," is now under the Recombo Plus license. They will be releasing three other tracks under the Recombo Plus, one each month. They have also licensed their first video, "Cabidela," under Recombo. And everything can be found online.
Last, but not least, Mombojó works closely with Re:Combo, the pioneer Brazilian collective that inspired Creative Commons to rename its "sampling" license "Recombo."
Radical. Now everyone get out there and do the Recombo.