Former Creative Commons Executive Director Glenn Otis Brown has added gloves to all that time he must have on his hands after leaving this crazy startup nonprofit organization. His boxing adventures as MEFISTO (very clever Glenn) are chronicled at Haymaker-SF. All videos are licensed under Attribution-NonCommercial-ShareAlike 2.0 and hosted at blip.tv, a cool new video hosting site that facilitates CC licensing and permanent archiving at the Internet Archive.
MEFISTO sporting a black (cc) t-shirt before and after sparring with Golden Gloves champ Paul Wade, one of his and Dr. Faust's boxing coaches: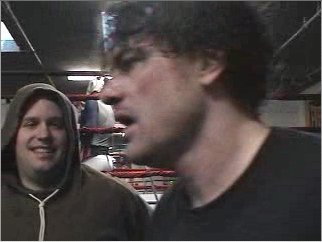 Stills from BY-NC-SA video by Haymaker-SF. Watch here.