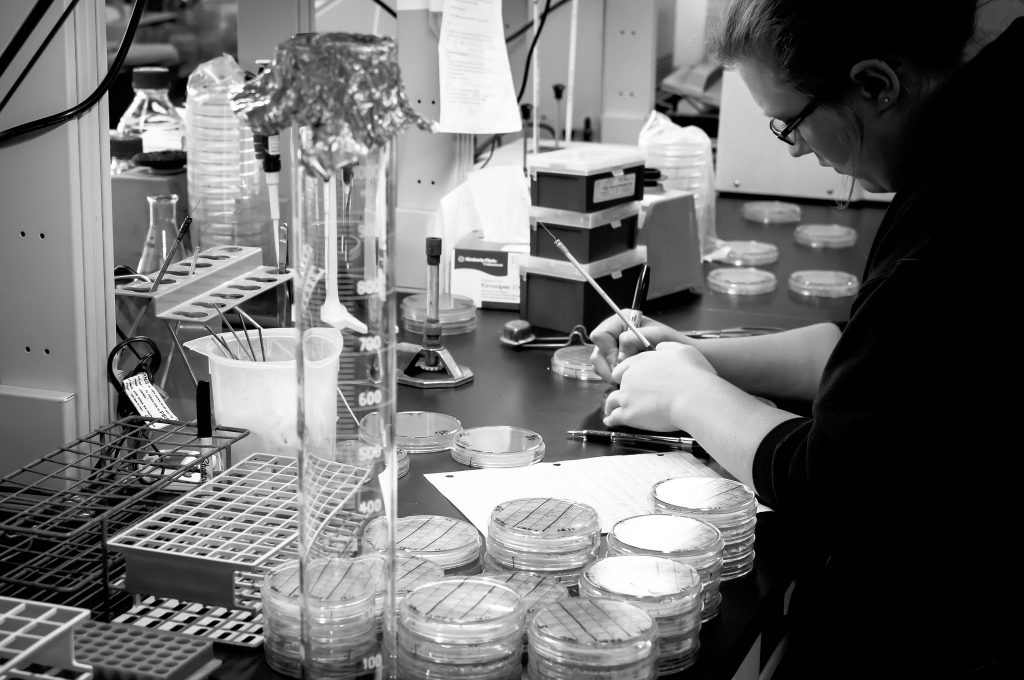 Laboratory Science—biomedical, by Bill Dickinson, CC BY-NC-ND 2.0
April saw lots of activity on the open science front in the European Union. On April 19, the European Commission officially announced its plans to create an "Open Science Cloud". Accompanying this initiative, the Commission stated it will require that scientific data produced by projects under Horizon 2020 (Europe's €80 billion science funding program) be made openly available by default. Making open data the default will ensure that the scientific community, companies, and the general public can enjoy broad access (and reuse rights) to data generated by European funded scientific projects. The Commission's actions in support of open science contrasts with the approach taken by the Member States, who—although none deny the momentum to push for "open by default"—are being much more cautious in developing and publishing open science policies.
Also in April, the Dutch EU Presidency hosted an open science conference in Amsterdam. One outcome of the conference was a collaboratively developed document called the Amsterdam Call for Action on Open Science. The call for action advocates for "full open access for all scientific publications", and endorses an environment where "data sharing and stewardship is the default approach for all publicly funded research".
The 12 action items laid out in the document push to increase support for open science in Europe. We offered suggested improvements to a few of the proposed actions. First, in response to the item to facilitate text and data mining of content, we said that text and data mining (TDM) activities should be considered outside the purview of copyright altogether. In other words, text and data mining should be considered as an extension of the right to read ("the right to read is the right to mine"). However, as others have pointed out, the fact that the InfoSoc and Database directives have not been implemented uniformly across all Member States indicates a need to adopt a pan-European exception in order to provide clarity to those wishing to conduct TDM. We noted that any exception for text and data mining should cover mining for any purpose, not just "for academic purposes." In addition, a TDM exception should explicitly permit commercial activity. Finally, we said that terms of use, contractual obligations, digital rights management, or other mechanisms that attempt to prohibit the lawful right to conduct TDM should be forbidden.
Second, we questioned why the item to improve insight into IPR and issues such as privacy needs to take into consideration activities that "will ensure that private parties will still be able to profit from their investments." We noted that all of the proposed actions are supposed to serve the identified pan-European goal of full open access to all scientific publications.
Third, we commended the action to adopt open access principles. However, we suggested that any principles developed should tackle a wider set of issues than those identified: "transparency, competition, sustainability, fair pricing, economic viability and pluralism." We said that open access principles should take into account the long-standing principles described by the Budapest Open Access Initiative, and its 10-year update, which includes recommendations on public policy changes, licensing, infrastructure support, and advocacy. In addition, we said that the stakeholders involved in the development of any principles should include researchers, students, and the public.
Finally, on the item of how to involve researchers and new users in open science, we urged researchers to actively engage with other scientists, citizens, and non-traditional audiences. Part of this change means that academics and policymakers need to stop characterizing these other groups as "users [who] might get lost in their search for information, or draw wrong conclusions." If we presume a default of open, we need to get comfortable with sharing—which sometimes means giving up some control—so that others can benefit. With openness in policy and practice, the communication of science can benefit not only its intended audience, but promote novel and interesting types of re-use across disciplines and and by unconventional users.
03 May 2016
Tags
Related posts