Open Access Policy In Practice: A Perspective from the Wellcome Trust
Open Access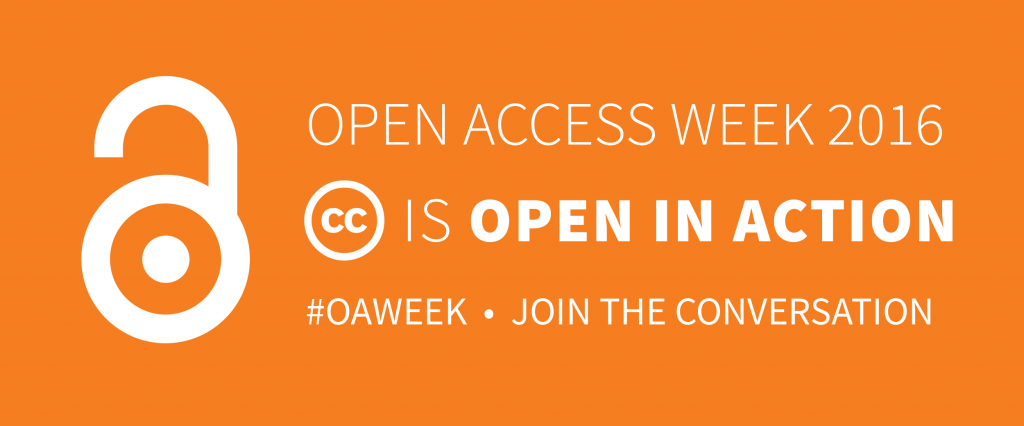 It's Open Access Week 2016. Open Access Week is an annual week-long event that highlights the importance of sharing scientific and scholarly research and data. Its goal is to educate people on the benefits of open publishing, advocate for changes to policy and practice, and build a community to collaborate on these issues. This year's theme is open in action. Today we are exploring open access policy within philanthropy by interviewing Robert Kiley from the Wellcome Trust. From brokering the Bermuda Principles for immediate sharing of DNA sequence data in 1996 to being the first funder to mandate open access to our funded publication in 2005, Wellcome has been at the forefront of open research for over two decades.
---
CC: Can you describe the Wellcome Trust and your role within the organisation?
RK: Wellcome exists to improve health for everyone by helping great ideas to thrive. We're a global charitable foundation, both politically and financially independent. We support scientists and researchers, take on big problems, fuel imaginations, and spark debate.
I'm currently on secondment from the Wellcome Library and am the Development Lead for Open Research. In this role I'm responsible for developing a strategy for the Wellcome Trust which will set out what we could do to move the needle in making research outputs findable, accessible, interoperable, and re-usable – the FAIR principles.
The Wellcome Trust has had an open access policy in place for several years now, and other philanthropic grantmakers such as the Bill & Melinda Gates Foundation, the William and Flora Hewlett Foundation, and the Ford Foundation have adopted similar policies that require open licensing for the outputs of grant funding. Can you describe the motivation behind the adoption of a CC BY open access policy for Wellcome funded research?
We believe that the full research and economic benefit of published content will only be realised when there are no restrictions on access to, and re-use of, this information.
When we first setup our open access policy in 2005, we simply required authors to agree that articles would be made available online. We didn't specify an open license that needed to be used. Over time, we began to understand that requiring an open license would help realise the full benefits of the research. From a practical perspective, mandating an open license helps us communicate the access and re-use rights, thus making it easier for downstream users to understand how they can use it. We'd also seen that some of our research had been published on a commercial website and had been subject to a takedown from the rightsholder. By adopting an open licensing policy we could make sure that the research funded by Wellcome is widely available without these troubles.
Related to this, open licensing allows for our research to be share beyond the traditional publication channels, and can help reach audiences where they are. So, for example, an article studying the effects of, say, breastfeeding, published under open access licence, can be posted on other platforms like Facebook or Mumsnet in order to reach the communities who get their information there. This is made possible with an open license like CC BY.
Equally, openly licensed content can be translated without first seeking permission from the rights holder.  Again, this helps to increase the reach (and potential impact) of the research we fund.  
Following on from that question, do you have thoughts on the intersection of open policy adoption between private funders like Wellcome and public research funding bodies? Do you see learnings or best practices that could be exchanged between these various funders, and whether there are particular considerations that should to be addressed so that the research that comes out of each funding stream is maximally useful for those that need it?
In some ways it might be easier for private organisations like Wellcome and Gates to adopt progressive open access policies. But from the government perspective the argument for open access is clear. And in the UK, the CC BY requirement applies to all research funded through the Research Councils UK (RCUK) when an APC is levied.
The government wants taxpayer-funded research to be openly reusable. It makes good economic sense, and can drive innovation and promote access to knowledge.
From CC's point of view, we know that open licensing is only one aspect of a successful open access policy implementation, and that there are many other policy considerations and practicalities that need to be aligned. These include providing education and guidance for authors on publishing and licensing options, repository and deposit requirements, attaching metadata to promote search and discovery, data management, and policy compliance. Wellcome's recent communication regarding publisher requirements seems to reflect a similar need for a holistic approach for OA policy implementation. Can you explain a bit more about these requirements, and why Wellcome decided to adopt them?
We make our Open Access funding available to institutions as block grants, and every year those institutions report back to us information on the outputs of that funding. We analyse the data, so we can determine how much an average APC charge was, and where the research was published. We're also able to ascertain whether the institutions are following the requirements attached to the funding, for example whether an article was made available through in the relevant repository (Europe PMC), whether the appropriate license was used, etc.
Our analysis showed that in a number of cases where Wellcome was paying the fees, we weren't getting what we paid for.  The the 2014-15 analysis showed that  around 30% of the papers were not fully compliant with our open access policy requirements. As a result, we recently created a set of publisher requirements, which makes explicit the things we expect from publishers when Wellcome pays an APC. For example, publishers must commit to the ongoing responsibility of keeping the articles up-to-date, including noting corrections, substantial revisions, license changes, and retractions.
There are huge opportunities—and many challenges—regarding the transformation of scholarly communications in service of improving access to research that could help solve global health problems. Is there a particular project or policy aspect that Wellcome is most interested in pursuing related to this objective?
We recently launched Wellcome Open Research, a platform for our grantees to rapidly publish any output from their research. This includes everything from typical research articles and data sets to case reports, notes, protocols, and even negative results. The platform is built on the F1000Research publishing model, which works on a post-publication peer review system.
Articles are submitted to the platform and checked to verify authorship and pass other applicable considerations, such as ethics clearance, plagiarism detection and data availability. Once it's passed these minimal checks, the article is formally published and is assigned a citation and DOI. Publication will typically happen within 5-7 days. After that, peer review begins. Everything is done in public, and the outputs are openly licensed—usually CC BY for articles, and CC0 for data.
Wellcome is also supporting the work of ASAPbio (and others) to encourage the sharing of preprints in the life and biological sciences.  We believe that sharing of preprints provides researchers with a fast way to disseminate their work, establish priority of their discoveries, and obtain feedback. They also offer a more current understanding of an investigator's work.
Posted 25 October 2016
Related posts