This month, I'll mark five years as CEO at Creative Commons. That makes me the longest-serving CEO in the organization's history, and it's also the longest I've served with the same job title. Every day I get to work with some of the brightest, most dedicated staff and community members in the open movement. Anniversaries are a good time to reflect, and as we all arrive home from our annual CC Summit in Lisbon, I wanted to share a few reflections on where we've come from, and where we're headed.
TL;DR – In the last five years we've rebuilt CC from the ground up, with a more solid financial foundation; a revitalized multi-year strategy and plan to focus on a vibrant, usable commons powered by collaboration and gratitude; and a renewed and growing network. We've developed and launched new projects and programs like CC Search and the CC Certificate program, and through it all, played a vital role in defending, advancing, and stewarding the commons.

We produced this video, entitled "Remix," not long after I started at CC to share our new strategy.
Some key facts. In the last five years, we've:
Articulated a new vision for CC, with a 5-year strategy to bring it to life, that focuses on a "vibrant, usable commons, powered by collaboration and gratitude"
Developed and launched CC Search, now indexing over 300M images, working closely with partners like the NY Metropolitan Museum of Art, Cleveland Museum, and Flickr

Redesigned the entire

Creative Commons Global Network

from the ground up, from codes of conduct to community prioritization and collaboration, with a goal of being more open, accountable, and community-led. The new network is nearly 3x larger than the previous affiliate community.

Established "The Big Open," a platform to acknowledge the interconnected nature of the many communities we work in, including Mozillians, Wikipedians, Open Education, Open Science and academia, Open Government, and Open Data

Co-created the CC Certificate with community experts and advisors, and certified over 250 people from all over the world to be practitioners and advocates
Authored the State of the Commons report, published every year since 2015 to demonstrate the size and reach of the Commons online, today at over 1.4B works (with the next report out in mere days)  
Hosted the largest and broad-reaching community-led CC Summits ever, in Seoul, Toronto, Toronto (again), and Lisbon

Raised over $26M from foundations, corporations, thousands of individual donors, and dedicated event sponsors, to support our work and community around the world

Worked with institutions around the world to help expand and protect the commons, from the New York Met, to Flickr, to Medium, to MIT's edX platform. In each case, we've been there to teach, advise, support, and advocate on behalf of CC users, open knowledge, and shared creativity

Built a more diverse team at Creative Commons, with a majority of both leadership and staff who are women, and a global staff that better represent the communities and cultures we serve, and the geographies in which we work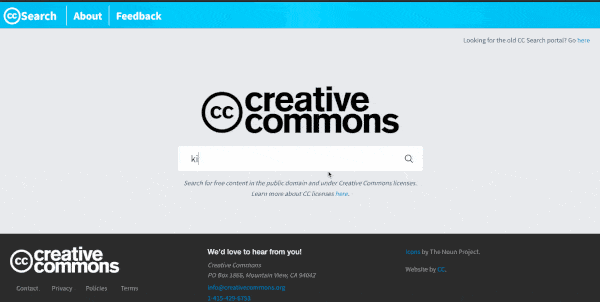 The all-new CC Search
We've had some difficult moments too. In 2015, CC was forced to make a round of difficult layoffs in order to stabilize our budget and program. We recovered, but those kinds of changes are painful for everyone. In 2017, we learned that CC community member and friend Bassel Khartabil had been murdered by the regime in Syria. Many of us joined together with his family and friends to create a fellowship in his name, and I'm proud to see that Majd Al-Shahibi will speak at this year's summit as the inaugural Bassel Khartabil Fellowship recipient.
This can be a lonely and unforgiving job. People treat you like a character — like the Office of the CEO — not like a person who has feelings, hopes, and doubts. And no doubt I have made mistakes. Like many in a role like this, I constantly replay how things worked out, and wonder how I might have done them differently in a different context. I think it's normal for leaders to do that, and I'd worry about anyone who says they regret nothing, or would never change a past decision. Most of the leaders I admire obsess about doing the right thing, both before and after the fact, but also recognize that we almost always have to do something — hopefully the right thing, or at least the best thing for the moment we're in, with the information we have. Still, within these difficult moments lies the knowledge that everything we do moves us towards a more equitable world.
None of this work would be possible without the team of talented humans who make up the CC team. I am full of gratitude for their daily energy, excellence, and commitment to the work we do. CC is also quite fortunate to have a strong Board of Directors who have provided mentorship, advice and counsel, and helpful criticism and support. I especially want to acknowledge our former board chair Paul Brest, whose board term ended last year, and who taught me a great deal about leadership, management, and strategic planning (and logic models). Finally, I want to thank my wife Kelsey, who was an active leader in the CC movement long before I came along, and who continues to support my work as an advisor and partner.
Creative Commons Global Summit by Sebastiaan ter Burg.
What's next?
Creative Commons' 20th anniversary is just around the corner (Jan 15, 2021), and it deserves a celebration worthy of the organization's reach and impact. We've already started planning, and we hope to create a celebration that looks as far forward as it does back.
CC Search is taking off, and we'll soon be adding more content types like open textbooks and audio. We're also working on enhanced search tools that will enable new types of discovery and re-use.
The CC Certificate continues to grow and sell out with each cohort. We'll be opening up a round of scholarships to improve accessibility for anyone who wants to take the course (though all the content is also CC BY, allowing anyone to read, copy, and remix it). We're also expanding the content to serve additional communities, like the GLAM sector.
And this year, for the first time in CC's history, the Global Network will lead and govern itself, set priorities and drive community growth and development. That's a profound change, and a collaborative result that I'm  certain will have an incredible impact.
There's so much more to do, so many important ways we can help. "Pick big fights with your enemies, not small fights with your friends," has been a favorite phrase of mine, and today there remain so many vital fights to have on behalf of shared knowledge and free culture. And CC has so many good friends to fight them with. I'm deeply grateful for those collaborations.
I look forward to doing this work for many years to come, with all of you in The Big Open.