Welcome the Official Spanish Language Translation of CC0! (¡Les damos la bienvenida a la traducción oficial de CC0 al idioma castellano!)
About CC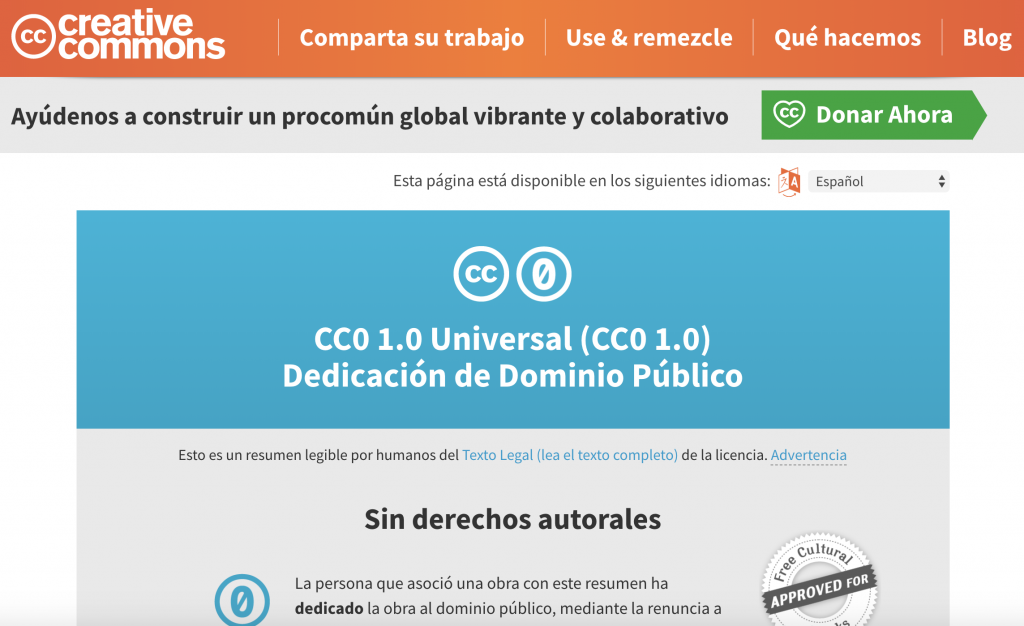 The official Spanish language translation of the Creative Commons Public Domain Dedication (CC0) is now available. This means almost 500 million users of CC0 will be able to read and understand the terms of CC0 in their first language.
First started in 2013, this multi-jurisdictional, collaborative translation effort has involved dedicated individuals from more than a half-dozen countries on two continents. The translation represents a significant accomplishment by members of the CC Spanish-speaking community, who worked to unify and bridge differences in terminology and drafting conventions across the many countries where Spanish is recognized as an official language.
More details about the CC0 translation process are available on the Creative Commons wiki, where you can also find information about the Spanish translation process for the 4.0 licenses and their publication last September.
A special thank you to the following individuals who contributed invaluably to this successful multi-year endeavor, and especially Scann and Txopi who assisted with the final reviews and proofing:
Beatriz Busaniche (Argentina)
Carolina Botero (Colombia)
María Paz Canales (Chile)
Alberto Cerda (Chile)
Claudia Cristiani (El Salvador)
Marianne Diaz (Venezuela)
Evelin Heidel (Scann) (Argentina)
Juan Carlos Lara (Chile)
Luisa Guzmán (Colombia)
Ignasi Labastida (Spain)
Claudio Ortiz (El Salvador)
Claudio Ruiz (Chile)
Marko Txopitea (Txopi) (Spain)
¡Felicitaciones a todos!
¡Les damos la bienvenida a la traducción oficial de CC0 al idioma castellano!
La traducción oficial al castellano de la Dedicación al Dominio Público de Creative Commons (CC0) está ahora disponible. Esto significa que más de 500 millones de usuarios de la CC0 podrán ahora leer y entender los términos de la CC0 en su lengua materna.
Con sus inicios en el 2013, este esfuerzo de traducción multi-jurisdiccional y colaborativa ha involucrado personas dedicadas provenientes de más de una media docena de países en dos continentes. La traducción representa un logro significativo para los miembros de la comunidad hispanoparlante de CC, que trabajaron para unificar y tender un puente en las diferencias en la terminología y en las convenciones de redacción a lo largo de los diferentes países donde el castellano es reconocido como lengua oficial.
Más detalles sobre el proceso de traducción de la CC0 están disponibles en la wiki [en] de Creative Commons, donde también se puede encontrar información sobre el proceso de traducción al castellano para la versión 4.0 de las licencias y su publicación en septiembre pasado.
Gracias especiales a las siguientes personas que contribuyeron de manera invaluable a esta exitosa empresa multianual, y especialmente a Scann y a Txopi que asistieron con las revisiones y pruebas finales:
Beatriz Busaniche (Argentina)
Carolina Botero (Colombia)
María Paz Canales (Chile)
Alberto Cerda (Chile)
Claudia Cristiani (El Salvador)
Marianne Diaz (Venezuela)
Evelin Heidel (Scann) (Argentina)
Juan Carlos Lara (Chile)
Luisa Guzmán (Colombia)
Ignasi Labastida (Spain)
Claudio Ortiz (El Salvador)
Claudio Ruiz (Chile)
Marko Txopitea (Txopi) (Spain)
Posted 10 June 2019
Related posts