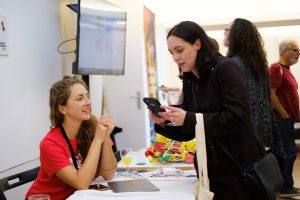 The 2020 Creative Commons (CC) Global Summit is returning to Lisbon, Portugal on 14-16 May, co-hosted by CC Portugal.
You can help bring the CC Summit to life for our participants by volunteering for a role on one of our planning committees. Please note: These are remote positions; you do not need to be located in Portugal.
Volunteer opportunities available:
Program Committee—as a part of this committee, you'll work collaboratively to develop the theme and tracks of the CC Global Summit, as well as curate the program submissions. This committee will require weekly or-biweekly conference calls from November 2019 to March 2020, as well as asynchronous communication by email and in Slack.
Scholarship Evaluation Committee—as a part of this committee, made up of CC staff and members, you'll use funding guidelines provided by CC to evaluate scholarship applications. This committee will require around 3-5 hours per week, from November 2019 until February 2020.
Learn more and apply by November 1, 2019.
Missed last year's CC Summit? Be sure to check out this blog wrap-up and watch all seven of the keynotes that cover a range of important topics—from decolonizing archives in Palestine to the barriers of copyright reform in Europe.