The 2020 Creative Commons (CC) Global Summit is returning to Lisbon, Portugal on 14-16 May!
We've grown the CC Global Summit every year as hundreds of leading activists, advocates, librarians, educators, lawyers, technologists, and more have joined us for discussion, debate, workshops, planning, talks, and community building.
Whether you're new to the community or a long-time contributor, the CC Global Summit has lots to offer. It's a can't-miss event for anyone interested in the global movement for the commons.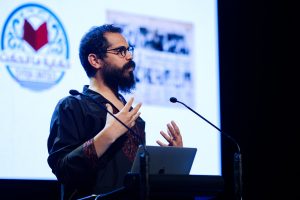 Your Participant Pass includes:
Access to all conference programming including workshops, talks, and keynotes

Breakfast, lunch, and snacks served onsite every day

Evening events showcasing local Lisbon artists
Register today using the discount code: SEEYOUSOON20 for 10% off your registration!
For the latest updates on the 2020 CC Summit, please join our mailing list and check out our website!
Missed last year's CC Summit? Be sure to check out this blog wrap-up and watch all seven of the keynotes that cover a range of important topics—from decolonizing archives in Palestine to the barriers of copyright reform in Europe.