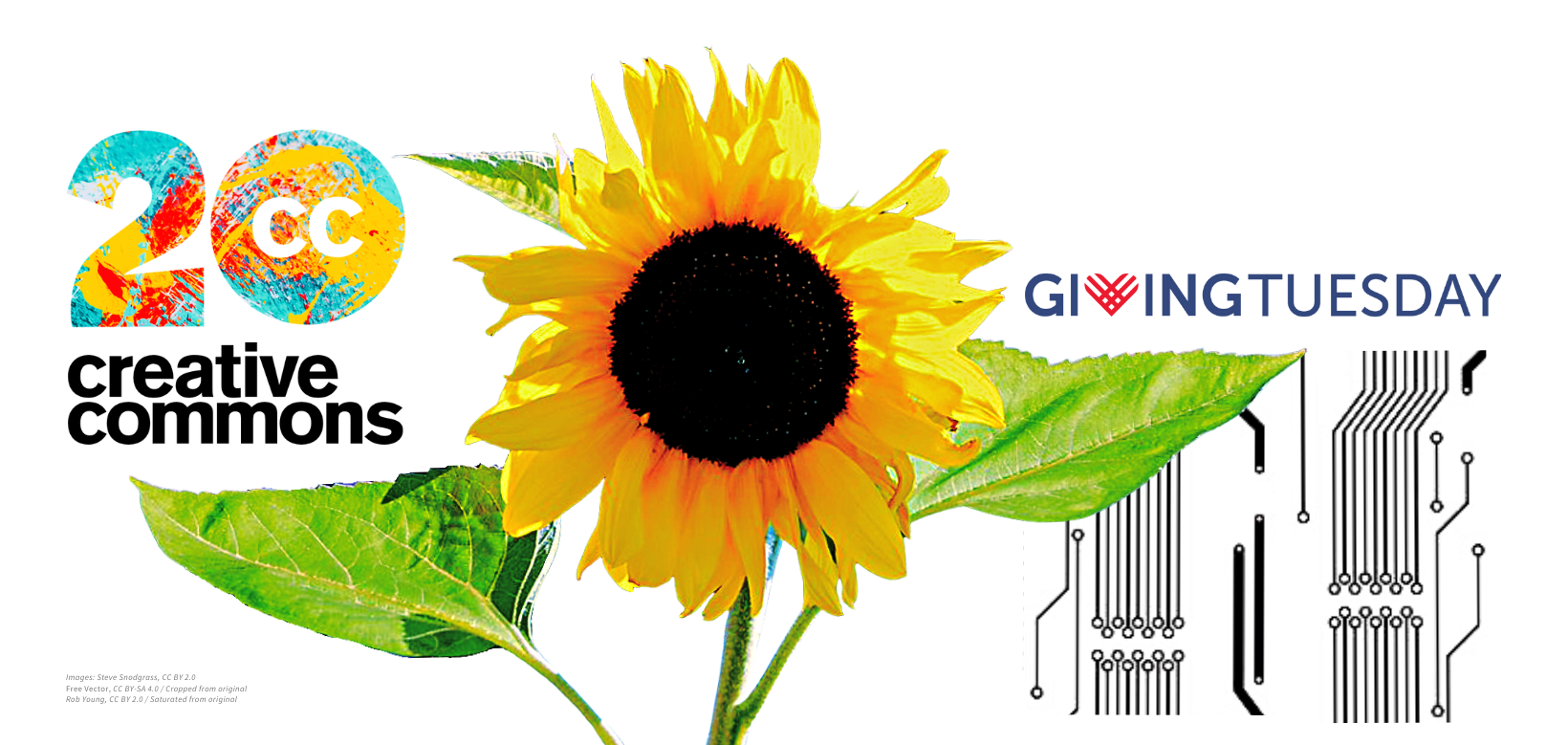 This #GivingTuesday — Tuesday, November 30th, Creative Commons invites you to join our 20th Anniversary celebration. In the weeks leading up to #GivingTuesday, we'll be spotlighting leaders in the Open Movement and encouraging you to support our Better Sharing, Brighter Future campaign.
We've set a goal to raise $100,000 before the end of this year.  The great news is that every donation up to $30,000 will be generously matched by a handful of longstanding CC supporters. 
Creative Commons is not only an online ecosystem of CC licenses and tech. We're a movement of people — a vast network of dedicated activists, scholars, inspiring librarians and teachers, lawyers, artists, fashionistas, digital masterminds and policy makers, fighting for more equitable global access to education, resources and creativity.
This includes individuals like Tyler Green, this week's community spotlight, an award-
winning historian, critic, author and host of The Modern Art Notes Podcast, a weekly (CC licensed!) program featuring discussions with artists, historians, authors and curators. 
Green recently released a new book, Emerson's Nature and the Artists: Idea as Landscape, Landscape as Idea, which explores the ways the written work of Ralph Waldo Emerson, a 19th century U.S. author, poet and philosopher, was deeply influenced by "American Art" and the natural landscape in the United States. He argues Emerson's famous text Nature was a game changer in our modern day understanding of the commons and Open Access, and that, as a scholar, Green needed access to both visual and textual resources to make his case.
"…the greatest obstacle to understanding art's role in the American project, in the idea of the American nation …is that it costs scholars serious money to publish our works. That makes it harder for scholars to know what's out there, but it also makes it harder to make arguments. If you can't publish the visual part of your argument with the textual part of your argument, why work hard to have an argument that is both visual and textual. And so open access is, at the risk of sounding grandiose, open access is the answer, right? Open access makes that possible."
Green encourages his audience to consider how greater access to a range of historical resources, visual and written, might strengthen our ability to understand our collective past and imagine a better and brighter future.
Learn more about Tyler Green and his work by tuning into Creative Commons' Open Minds Podcast.
In the coming weeks, we'll feature more Open Access advocates like Green, who are working to make our global culture more open and collaborative. In the meantime, we invite you to join our Better Sharing, Brighter Future campaign. See below for ways to get involved. 

Donate
Make a donation to CC's 20th Anniversary Campaign. Visit our Donor FAQ for information on all the ways to contribute.
Share
Share why you support the open movement on social media, with the hashtags #CCTurns20 and #BetterSharing, and don't forget to tag @creativecommons.
Listen
Check out our Creative Commons' Open Minds Podcast and share with your friends.
Follow