Mark Your Calendars: The 2023 CC Global Summit Is Coming to Mexico City
Events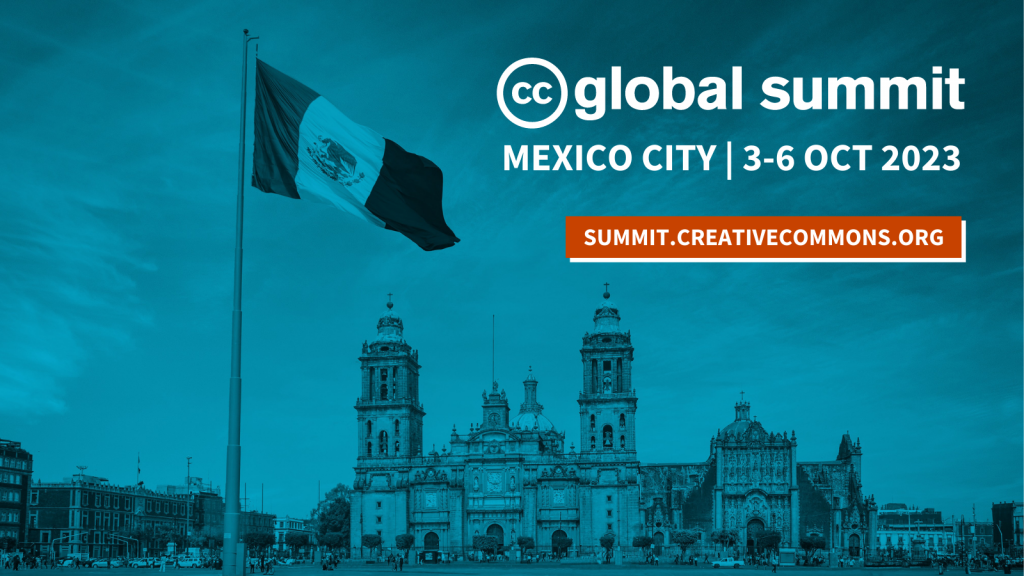 [Lee esta entrada en español >]
We are thrilled to announce that the Creative Commons Global Summit will return to an in-person event in 2023, and this time we are heading to one of the most vibrant and culturally rich cities in the world — Mexico City! During 3-6 October 2023, we will be gathering at the Centro Cultural Universitario Tlatelolco to unite, share ideas, and create a brighter future for open sharing. We are thrilled to be organizing the event in collaboration with CC Mexico, and hope you will be able to join in what will be an unforgettable experience.
This opportunity to gather together couldn't come at a better time: Never before has the public interest commons been richer, larger, or more essential to solving the world's biggest challenges and helping us all lead rewarding and meaningful lives. The theme of the Summit aligns with our 5-year strategy, Better Sharing, Brighter Future, and we're excited to explore sharing that is contextual, inclusive, just, equitable, reciprocal, and sustainable in one of Latin America's major cities. The program will be filled with keynotes, panels, community sessions, workshops, networking, art, and music. The 6 Summit tracks will include:
Science/Climate: Advocating for how open research and data play critical roles in addressing global challenges.
Education: Highlighting the work of those creating opportunity and advocating for more equitable access to educational resources.
Culture: Examining how preservation, access, sharing, use and reuse of culture are essential ingredients of thriving and resilient societies.
Journalism: Addressing the critical challenges that journalists, content creators and storytellers face, and exploring how the open commons can strengthen the media ecosystem.
Better Internet (Web3, Data, AI, Policy): Exploring how we can all work together to achieve a "better internet" and what that means in today's world of emerging technology and a rapidly changing internet ecosystem.
Arts & Emerging Technologies: Addressing timely issues impacting artists and creators globally, and exploring opportunities at the cross-section of creativity, Open Access, and technology.
As one of the 10 largest cities in the world, Mexico City is a vibrant, never-ending mix of cultures, where you can find a perfect balance between tradition and modernity. The Summit will be the perfect opportunity to explore the city's vibrant streets, rich history, and delicious food, while also learning from experts in the field, network with other professionals, and contribute to the open movement.
CC recognizes that language can be a barrier to connection and communication in our global community. For the 2023 CC Global Summit, we will be publishing major communications in both English and Spanish, and we are investigating how to best support both English and Spanish in the Summit program.
Does your organization want to shape the future of digital creativity and collaboration? Join us as a sponsor at the 2023 CC Global Summit in Mexico City! We are finalizing sponsors to help make this cross-cultural event possible and support our work at Creative Commons. In addition, your sponsorship will support the Scholarship Fund, which will enable wider community representation at the Summit within open knowledge spaces. Interested? Reach out to Kat Drew at kat@creativecommons.org to explore sponsorship opportunities.
Get a taste of what to expect at the CC Global Summit by revisiting our last in-person summit in Portugal 2019. Check out the wrap-up blog post and watch all seven keynotes.
Mark 3–6 October in your calendars and subscribe to our mailing list, follow us on social media (Facebook, Instagram, LinkedIn & Twitter), or join CC on Slack to stay up to date on Summit registration, scholarship, program committee, and call for proposals. We can't wait to see you in Mexico City for an unforgettable experience!
Posted 19 January 2023
Related posts