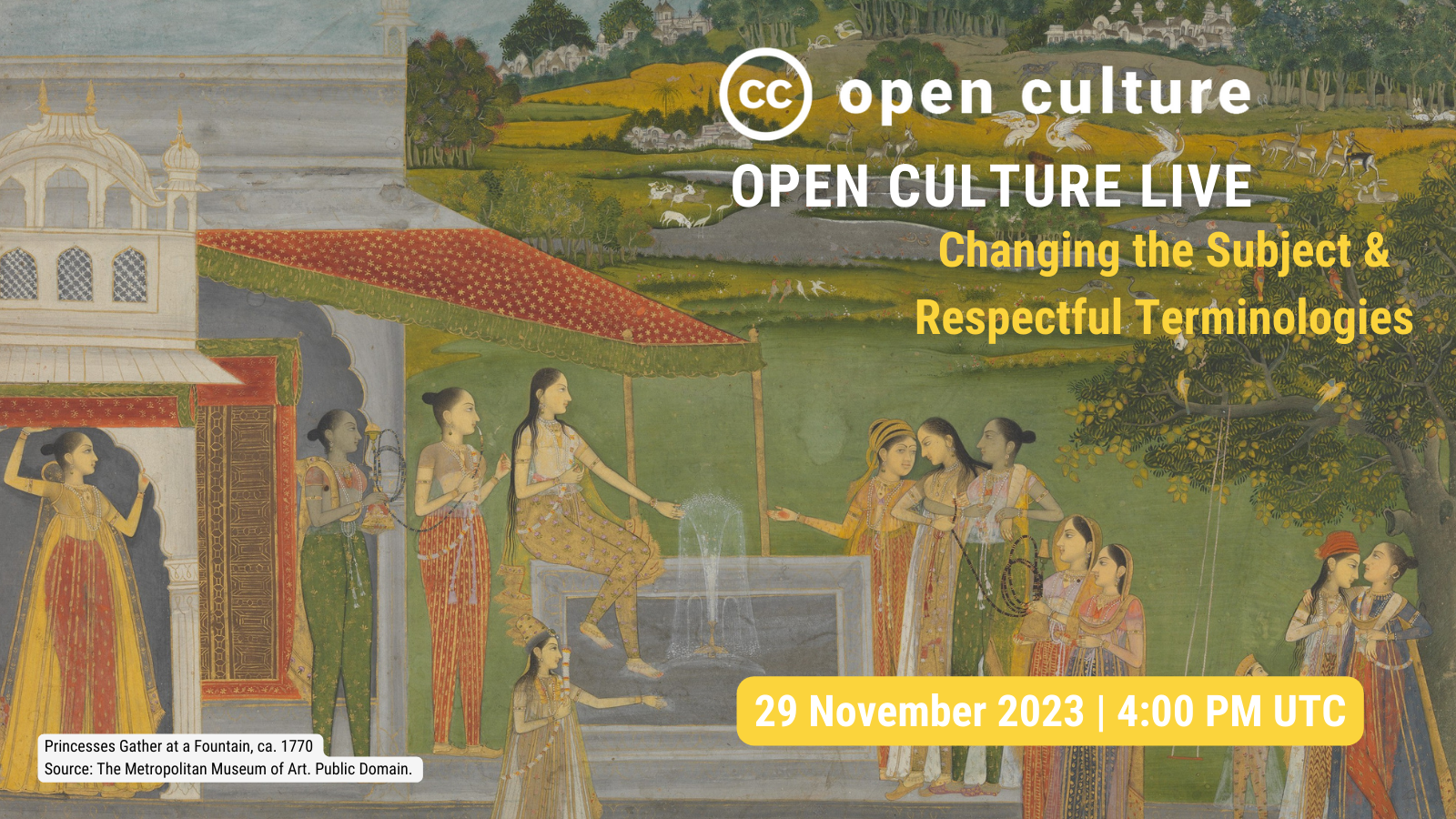 We are excited to host the second installment of Open Culture Live with our next conversation:
Changing the Subject & Respectful Terminologies
29 November 2023 at 4:00 UTC
For centuries, cultural heritage institutions have been undertaking the work to document and catalog objects in their collections — sometimes this work suffers from a legacy of colonialism and discrimination in the way their collections are labeled and categorized. Some institutions are working to update these labels with more respectful terminology. Hear more from some of the changemakers working to update labels and metadata with more respectful terminologies during this CC panel.
As CC's Open Culture team works to promote better sharing, we think it is important to address some of the key challenges and concerns that come along with promoting open access to cultural heritage. These challenges are not always simple to address, but they are important to ensuring that open access policies and practices go hand in hand with harm reduction, and do not perpetuate or amplify historic injustices.
Learn from the experts involved in addressing harmful labels in cultural heritage institutions in this conversation. We will ask the experts if any institutions serve as a good model for rethinking their labels, acknowledging that many are in the process of ongoing work. We will discuss where to start, how to think about some of the challenging decisions, why and how to preserve historical metadata, and how digital archival practices can support this work. We hope that this will provide a guide of some of the ways you might consider adopting better metadata practices and using more respectful terminologies in your collections.
The panel will feature:
Jill Baron, Dartmouth College
Marco Rendina, European Fashion Heritage Association
Oscar Ruben Cornejo Casares, Ph.D. Candidate in the Department of Sociology at Northwestern University
Amanda Figueroa, Platform Director, MHz Foundation
Carma Citrawati, Lecturer, Udayana University
With introductory remarks from Brigitte Vézina and moderation by Jocelyn Miyara.
→ To stay informed about our open culture work: