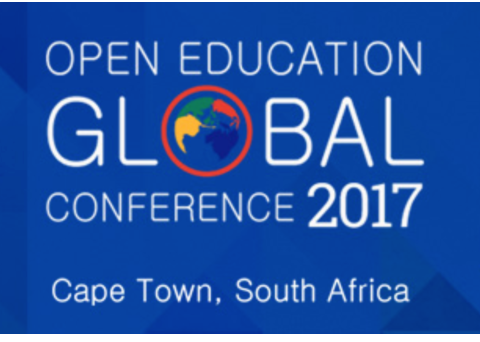 Last week the open education community convened in Cape Town South Africa for OEGlobal 17. Convening in Cape Town had historical significance as it commemorated the tenth anniversary of the Cape Town Open Education Declaration, which is a statement of principle, strategy, and commitment put forward in 2007 to help the open education movement grow. OEGlobal 17 provided a forum to celebrate and reflect on open education advancements over the past 10 years and consider new ways to broaden and deepen open education efforts going forward.
One of the best things about OEGlobal is the diversity of its international participants providing an incredible range of perspectives from open education initiatives around the world. I enjoyed hearing about open credentials and radical openness in the Czech Republic, Norway's digital learning arena and sustainable large-scale model for Open Educational Resources (OER), and the pragmatism and insights from South Africa's own Siyavula initiative. Europe, Asia, Latin America, the global south, North America, open education is truly a global movement.
Creative Commons was very active at OEGlobal 17. Ryan Merkley, Kelsey Wiens, Cable Green, Paul Stacey, Alek Tarkowski, and Delia Browne collectively demonstrated CC's commitment to open education through a range of sessions including:
While the early days of open education were largely about OER, things have evolved a lot over the last 10 years. Now we're talking about open educational practices, open pedagogy, open education policy, MOOC's, entire OER degrees, and open education research. Despite this clear evolution, open education is still not considered mainstream. In the closing session a panel and the audience engaged in putting forward ideas for advancing the movement further – the new Cape Town Open Education Declaration +10 ideas will be forthcoming in the weeks ahead. My own personal contribution was to suggest that the various open education movements, including OER, Open Access research publishing, open data, and open science are all currently operating as independent silos and may be more impactful if efforts were put into unifying them into a more synergistic whole.
In the near term, March 27-31, 2017 is Open Education Week and in September UNESCO will be hosting the 2nd World Open Educational Resources (OER) Congress in Slovenia, Ljubljana.
The vision of the 2007 Cape Town Open Education Declaration is alive and well. From the statement:
"We are on the cusp of a global revolution in teaching and learning. Educators worldwide are developing a vast pool of educational resources on the Internet, open and free for all to use. These educators are creating a world where each and every person on earth can access and contribute to the sum of all human knowledge. They are also planting the seeds of a new pedagogy where educators and learners create, shape and evolve knowledge together, deepening their skills and understanding as they go." I'm proud that Creative Commons helps make this possible. Congrats to open educators everywhere.