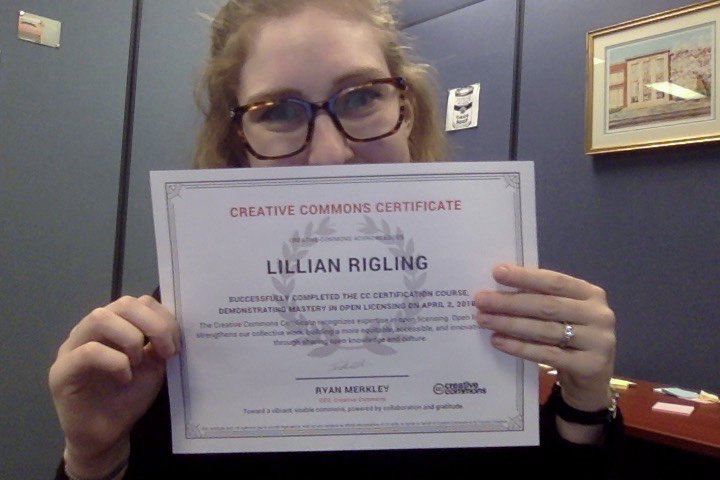 On July 16, the first four Creative Commons Certificate courses began. Two cohorts of 25 librarians and two cohorts of 25 educators joined us from Bangladesh, Canada, Great Britain, Hong Kong, Netherlands, Romania, Sweden, and the US. Immediately apparent in this group is the diverse experience, impressive expertise, and personal interest participants bring to the courses. Participants have already begun working on assignments and volunteering openly licensed resources they've created. We are compiling a list of the participant-shared Open Educational Resources (OER) which we will share at the end of the courses.
As an instructor, I'm humbled and delighted by the chance to learn from so many new colleagues. I look forward to seeing the number of CC-certified, commons experts increase, and the network of "open" advocates grow. We also recognize that the CC Certificate course is not yet available to many people who would like access to it. We aim to increase course accessibility through a scholarship program, language translations, building instructor capacity, and other improvements. We will be working on all of these efforts over the next year.
In the short term, here are some immediate ways you can get involved.
We offer the CC Certificate content to everyone as OER, under the CC BY license, in downloadable, editable file formats on our website. We invite you to reuse and remix the content! Please let us know what content is useful to you and/or how you use it by emailing jennryn@creativecommons.org. Understanding how our shared content is useful to you helps us further advance a culture of sharing and engagement.
We are piloting work with Hypothes.is, a non-profit organization that enables anyone to annotate resources online, to make it simple for everyone to publicly add comments to the CC Certificate content. Join CC Certificate participants in this public forum for annotation of Certificate content. CC will monitor these public annotations to learn how we can make improvements to future iterations of the CC Certificate. Your feedback in this global conversation will help strengthen the course. Get involved on the CC Certificate Resources page, or annotate content directly.
While the CC Certificate is currently sold out for 2018, we will open 2019 course registration in the fall and look forward to sharing additional updates with you as our 2018 courses progress. For example, we will share compiled lists of CC licensed resources and projects participants generate, and invite you to use them for your own learning and advocacy efforts. Follow #cccert on Twitter, join our newsletter and check out our CC Certificate website for updates.