Creative Commons is pleased to be a part of the second annual Public Domain Day celebration held in Washington D.C. on January 30, 2020! 
In collaboration with the Internet Archive, the Institute for Intellectual Property & Social Justice, the Program on Information Justice and Intellectual Property, and SPARC, this event will "bring together a diverse group of organizations, musicians, artists, activists, and thinkers" to celebrate the works entering the public domain in 2020 as well as highlight the "elements of knowledge and creativity that are too important to a healthy society to lock down with copyright law."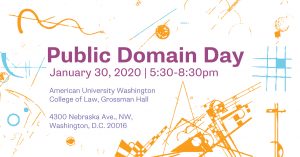 The program includes lightning talks on a variety of topics, such as bias in algorithms, shared cultural resources, and technological innovation. There will also be a panel discussion on "how the freedom to build upon creative works can inspire and move culture" and live performances by the Bob Schwartz Quartet! 
Location 
January 30, 2020 | 5:30-9:00pm
American University Washington College of Law, Grossman Hall
4300 Nebraska Ave., NW, Washington, D.C. 20016
Program
5:15

– Registration Opens

5:30

– Facets of the Public Domain – Public Interest Organization Showcase and Reception (featuring the Bob Schwartz Quartet)

6:30

– Realizing Access to the Public Domain 

6:50

– Remixing the Public Domain

7:15

– Too Important to be Protected: Limits on Copyright for a Healthy Society – Presentation by former MEP Julia Reda, followed by Lighting Talks

8:30

– Reception: featuring the Bob Schwartz Quartet
If you're not able to attend, there will be a webcast available here starting from 6:30 PM EST on January 30, 2020!