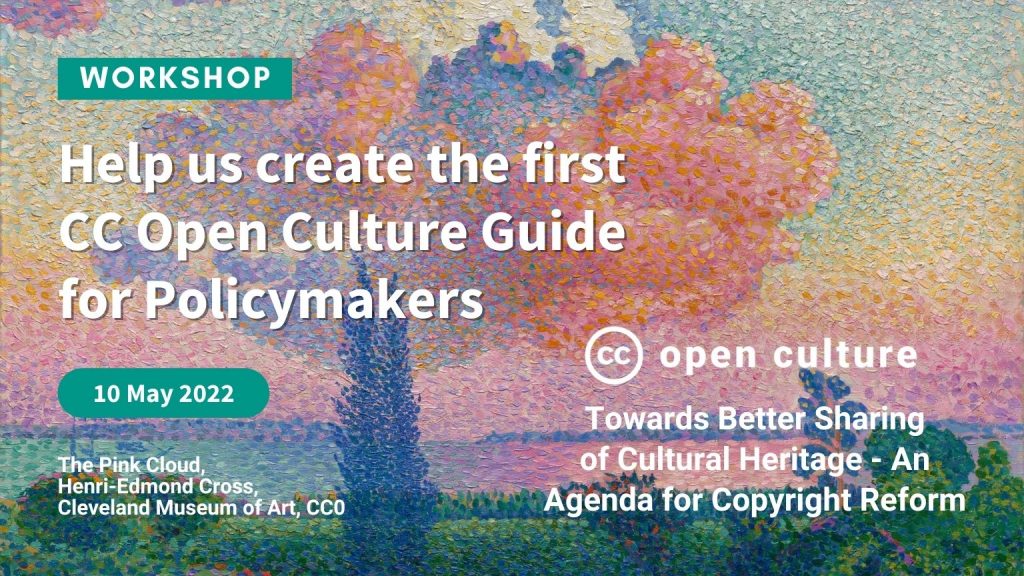 Join us at the
'Towards Better Sharing of Cultural Heritage' Workshop
on Tuesday 10 May 2022 at 3 PM UTC as we kickstart the development of a CC Open Culture Guide for Policymakers.
This digital workshop will continue the work of the newly released paper "Towards Better Sharing of Cultural Heritage — An Agenda for Copyright Reform". We will bring together policy experts and open culture enthusiasts from around the world to help shape the first ever CC Open Culture Guide for Policymakers.
The workshop will begin with a brief overview of the main policy issues affecting better sharing of cultural heritage. Panelists will then share their insights into ways to develop impactful and effective guidance to reshape policy. This will be followed by an interactive session where we will co-create an initial roadmap for developing a guide for policymakers to support the public-interest goals and mission of cultural heritage institutions and their users around the globe.

══════════════════
As a participant, you will have the opportunity to share your views and have your say in one of our four breakout sessions: 
Open Culture in an Ideal World:

Needs, goals and aspirations of the open culture movement 

Open Culture in our Current World:

Problems, hurdles and challenges

Bridging the Gap between Current and Ideal:

Exploring solutions: exceptions and limitations and safeguarding the public domain

New horizons:

artificial intelligence, copyright and cultural heritage
Date: Tuesday 10 May 2022
Time: 3:00 – 5:00 PM UTC |  Check your local time zone
Location: Join us from wherever you are based! We'll be using Zoom to host the event.

Our goal is to reach a common understanding of the purpose, structure, legal scope, and general content of a future CC Open Culture Guide for Policymakers, to be co-created by the CC copyright platform and wider open culture community.

This guide is intended to provide local policymakers with:
The technical knowledge and understanding of the GLAM sector 

An overview of current and emerging policy issues, trends and challenges in order to action

Practical tools to develop key arguments and effectively advocate for reform in the GLAM sector to fruition 

Steps to leverage the transformative power of access to cultural heritage to support and encourage people to enjoy their right to access culture

Tools to identify engagement opportunities to promote open access and better sharing of cultural heritage
Confirmed Panelists include: 
We can't develop this guide without your help, so get involved in developing a stable foundation for policy makers to further access to information, knowledge and culture. Register now >>