20CC: Open Works from CC's 20th Anniversary
Events
During 2021–2022, CC has been celebrating the 20th anniversary of our founding in 2001 and the first release of the CC licenses in 2002, successfully concluding an ambitious fundraising campaign to support programs like Open Culture, Open Climate, and Open Education, and to help ensure CC's ongoing sustainability.
In November 2022, CC brought the 20th anniversary celebration to an official close with both online and in-person activities. Highlights from these events were a collection of new open works showcasing the creativity and power of the open community. Take a tour down the page to explore video, digital experiences, music, and visual arts, all made to mark 20 years of Creative Commons, and now part of the open commons for everyone to share and remix.
Twenty Years of Creative Commons (in Sixty Seconds)
To mark CC's 20th anniversary, we collaborated with Ryan Junell — the artist who designed the CC logo — and CC board member Glenn O. Brown to produce a new video showcasing the journey CC has taken over two decades to transform a messy, all-rights-reserved world into a thriving open commons. The video debuted on the big screen at the #20CC event to thunderous applause.
"Twenty Years of Creative Commons (in Sixty Seconds)" by Ryan Junell and Glenn Otis Brown for Creative Commons is licensed via CC BY 4.0 and includes adaptations of the multiple open and public domain works. View full licensing and attribution information about all works included in the video on Flickr.
Ain't Nobody's Business
Special musical guest Ouida performed a three-song set at the #20CC event, including two of her own original songs and her reinterpretation of a classic jazz standard, now in the public domain. Listen to Ouida's "Ain't Nobody's Business" recorded live on 17 November 2022 in San Francisco.
"Ain't Nobody's Business" by Ouida licensed via CC BY-NC 4.0 adapted from "Tain't Nobody's Biz-ness If I Do" by Porter Grainger and Everett Robbins in the public domain.
A history of CC
Slides from the new dynamic CC Timeline looped on the big screen during the #20CC event, showcasing key moments in CC's dynamic history, from our founding in 2001 and the release of our first open licenses in 2002, all the way to our most recent milestones. CC grew up online, so we've also included landmarks from web history in the timeline to show the close connections between the spread of digital networks and key events in our global community project to open knowledge and culture for everyone.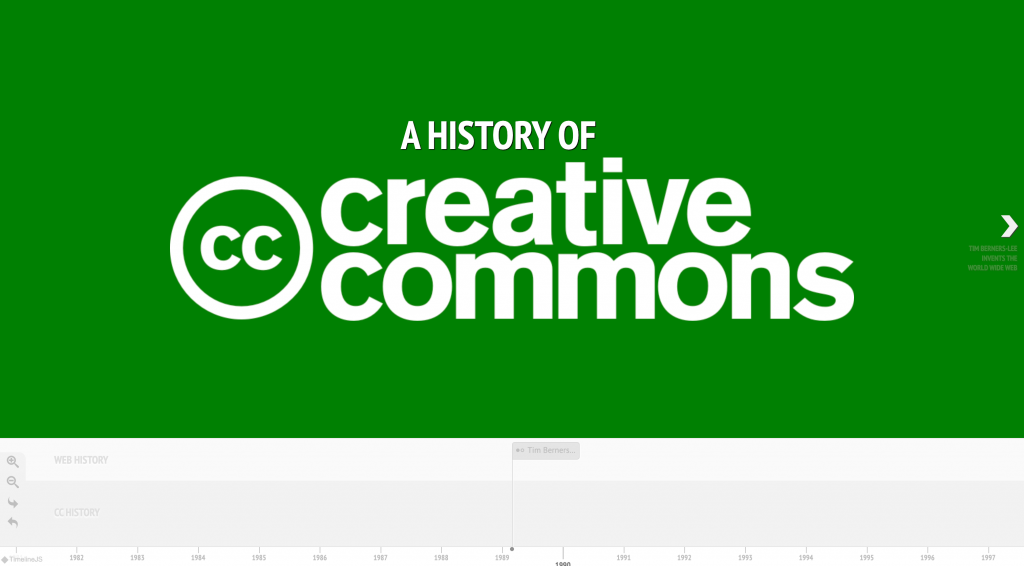 Is something missing from this CC history? You can contribute key events to help build the timeline.
#BetterSharing illustrations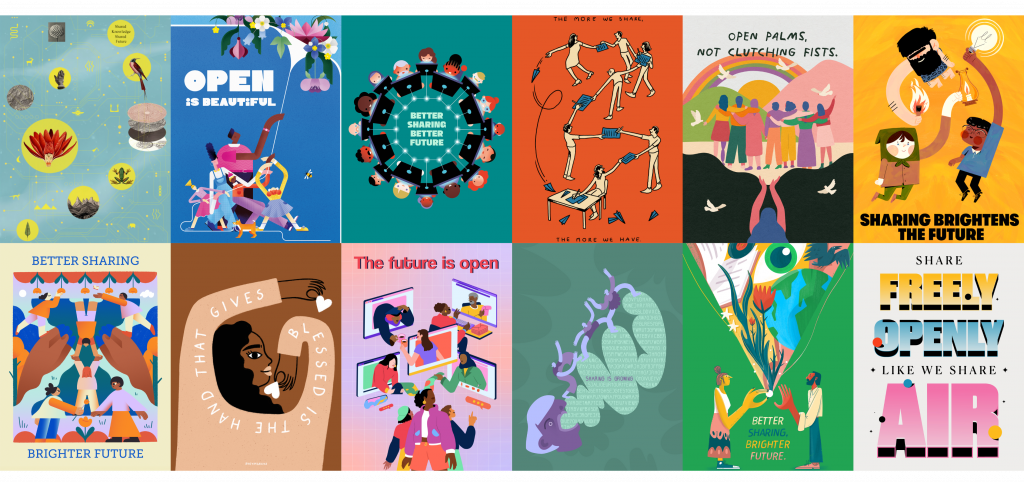 To celebrate the 20th anniversary of Creative Commons and our licenses, we partnered with Fine Acts to commission the #BetterSharing collection of illustrations to be enjoyed, used and adapted, and then shared again, by anyone, forever.
In developing this collection of artworks, we posed this question to 12 prominent global open advocates:
What does better sharing for a brighter future look like to you? 
Fine Acts selected 12 well-known international artists who have embraced openness to create a series of visual pieces under an open license, which are inspired by the theme and responses from the advocates and shared in The Greats, an open repository of free illustrations from great artists
to change the world.
Attendees at the live #20CC event bid on framed prints of the #BetterSharing illustrations, raising funds to sustain CC's work. Explore the full collection, and feel free to print and frame your own copies of these open works.
CC 20th Anniversary Open Mix
If you paused to listen at the #20CC event, you heard tracks from a special playlist of open music, curated by Marko Roca, Head of Music at the Free Music Archive. Tracks came from a wide range of genres, from afrobeat, to balkan, bluegrass, electronica, jazz, folk, funk, hiphop, pop, salsa, triphop and everything in between. Our thanks to Marko and all the artists in the mix — CC is contributing to support these artists on FMA, and we encourage you to listen and contribute to support open music artists!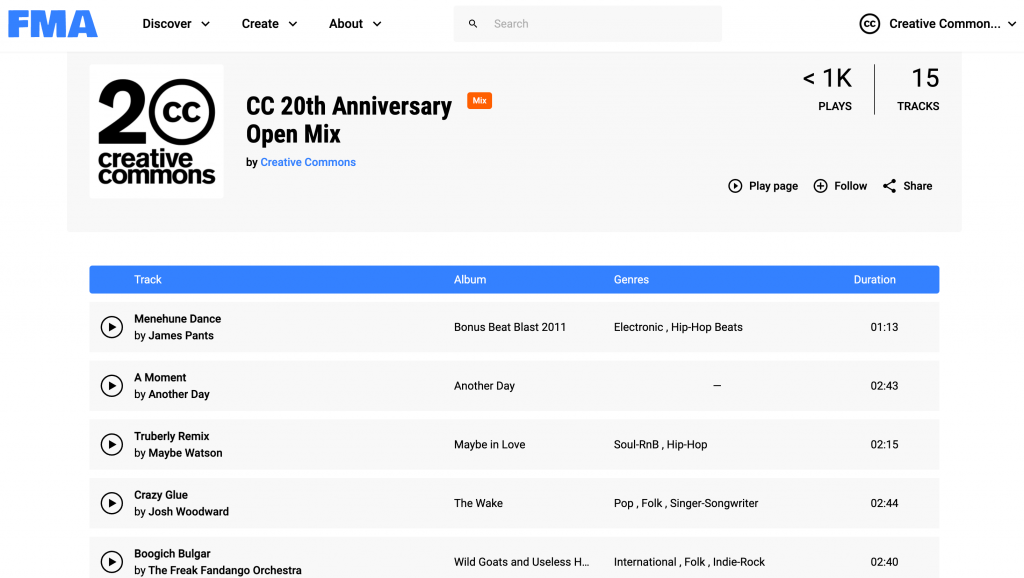 Open Infrastructure Circle
Huge thanks to the organizations who joined our Open Infrastructure Circle to show their support for the work CC does to steward and develop the open licensing and legal tools that are essential to support a global, interoperable public commons: BCCampus, Hypothesis, Michelson 20MM Foundation, MIT OpenCourseWare, Pressbooks, and Saylor Academy.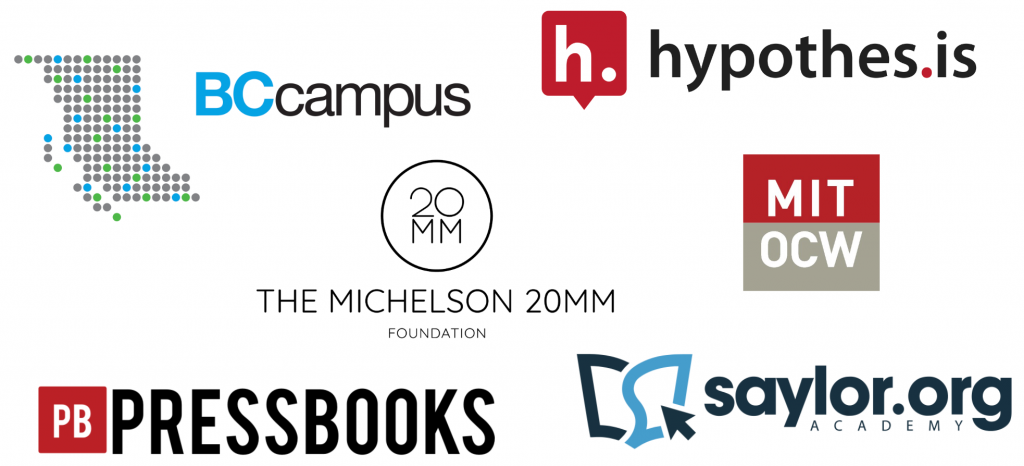 Does your organization rely on CC licenses and legal tools to participate in the open commons? Join the Open Infrastructure Circle to help CC develop and steward essential open infrastructure to continue to grow the open commons and ensure emerging technologies support better sharing.
Make a contribution to support CC
Creative Commons empowers people, institutions, and governments to share content openly to advance knowledge, equity, and creativity for everyone, everywhere. As we look ahead to the next 20 years, our focus is on better sharing, sharing that is contextual, inclusive, just, equitable, reciprocal, and sustainable. As a nonprofit, we rely on contributions from people like you. Make a contribution of any size >


Posted 05 December 2022
Tags
Related posts