For people wanting to learn about CC and its application in different sectors, there is a sea of materials available online. In particular, CC's international affiliates create a huge number of educational resources that cross language and cultural boundaries.
A few weeks ago, I wrote a post about my work sorting through some of these resources to identify some of the best, focusing on CC license use for public sector information, for publishing content on a variety of digital platforms, and for generating revenue. As promised, today I'll highlight some of the resources I've discovered.
Intro to CC
For those who are just getting acquainted with Creative Commons:
CC Qatar's Meet Creative Commons video offers a great introduction to the benefits of CC licensing, the different types of licenses in CC's license suite, and how to choose a license that's right for your work.
CC Poland has created a great quick guide to the licences in their open poster.
If you're looking for more depth, the new School of Open initiative, a collaboration between P2PU and CC, is just getting off the ground, but it already offers the short Get CC Savvy course.
CC and Government
For those interested in the potential of CC licenses to encourage unexpected and innovative re-use of information collected and published by government agencies:
Journalism and Blogging
For those working on journalism and citizen media in the digital age:
Business Models
Finally, resources that demonstrate how open content licenses can form an important component of online revenue models:
Creative Sector Case Studies (1.1 MB PPTX), again from CC Australia, presents cases studies of creators generating revenue by releasing their work to the public under CC licenses.
Musician Dan Bull (via CC United Kingdom), writer Cory Doctorow (who has been writing on the subject for years), and filmmaker Nina Paley have all been interviewed about how (and why) they use CC-licensed works to build a relationship with their audience, increase their distribution, and promote themselves.
On his blog Techdirt, Mike Masnick has written some of the definitive articles about monetization through what he calls the "Connect with Fans + Reason to Buy" business model.
For more information on business models, see my fact sheet, Business Models for Creative Works & Creative Commons Licensing (90 KB PDF).
The links above represent just a small portion of the resources out there teaching about Creative Commons licensing in different spheres. For more materials, a good place to start is our wiki, which has pages that collect resources and case studies on a wide range of topics. For resources in your language or relevant to your country, check out your local affiliate's website.
In closing, I wanted to mention that my internship at CC came to an end last week. I've really enjoyed working with the CC team and learning about the organization's work, and hope to stay a part of the CC community.
Natalya can be reached via Twitter at @NBerenshteyn.
Comments Off

on Great CC Resources from the Community

Tobias Schonwetter
Ibtihel Zaatouri / CC BY

Alex Gakuru
Erik Hersman / CC BY

Jane Hornibrook
Andrew McMillan / CC BY

SooHyun Pae
dreamdrawing / CC BY
It is my great pleasure to welcome to CC's staff our new Regional Project Managers for Africa and the Asia-Pacific — Tobias Schonwetter and Alex Gakuru (Africa) and Jane Hornibrook and SooHyun Pae (Asia-Pacific).
The role of the Regional Project Managers is to support and foster CC's community in their regions. Creative Commons has volunteer teams operating in over 70 countries, all of whom work to support and promote the adoption of CC in their local jurisdictions, while at the same time providing valuable expertise and input to CC's work globally. CC introduced the Regional Project Manager positions last year as part of a broader strategy to enhance the role and profile of this affiliate community.
Tobias, Alex, Jane and SooHyun have all worked with the CC community for many years, and are experienced advocates of open in their regions. The decision to appoint two project managers for each of the regions was influenced by a number of factors, including the strong pool of candidates and the size and cultural diversity of the geographic areas they will be covering. Each manager will work with their colleague to create a regional support team that is able to respond quickly and adeptly to the needs of their community. This follows the extremely successful application of the same model in Latin America, where Carolina Botero and Claudio Ruiz share the role.
Within each of the regions, we have specifically chosen the managers to have complimentary skills, locations, and backgrounds. Tobias is a lawyer and academic based in South Africa while Alex is a communication technologies expert working out of Kenya. Meanwhile, Jane is a Community Manager at the National Library of New Zealand and SooHyun is a translation expert in South Korea. All four of the managers have close ties to their local Creative Commons communities and either currently or formerly hold leading roles on their countries' teams.
I would like to thank the outgoing project managers for these regions — Aurelia Schultz (Africa) and Chiaki Hayashi (Asia-Pacific) — who have both dedicated a great deal of time to building their local CC communities over the last year and have achieved wonderful results. Both are moving on because of time commitments, and will continue to work with CC in other roles.
I would also like to thank all who applied for the positions — we had an unexpectedly large response and there were many very strong candidates.
Congratulates to Tobias, Alex, Jane, and SooHyun on your appointments, and I look forward to working with you going forward.
3 Comments »
Stay up to date with CC news by subscribing to our blog and following us on Twitter.
Top stories:
Comments Off

on CC News: Video Contest Winners Announced

iSummit08: Jimmy Soriano / Tomislav Medak / CC BY
Creative Commons would like to take this opportunity to remember the great contribution made to its community by Atty. Jimmy Soriano.
Jimmy first joined the CC community in 2005 when he launched our CC Philippines team. Over the past 7 years, he has been a constant presence at CC events, a major contributor to discussion and debates, and a particularly influential figure in our Asia-Pacific community. For several years, he served as head of the CC Asia and the Pacific Community, launching its first newsletter and hosting its conference in Manila in 2009. Jimmy's friendliness, patience and wisdom made him a natural leader in our community, taking the role of mentor and advisor to many new affiliates in his region.
In his role both in CC and as Executive Director of the e-Law Center of the Arellano University School of Law, Jimmy was a particularly strong advocate for open education and the need to make knowledge and learning accessible to all. He practiced his own values through his teaching, advocacy and academic work, in which he sought to make the law accessible and understandable to all members of society.
Jimmy passed away on Monday, after a year of lingering illness. He will be greatly missed by all in the CC community.
Below are a few memories of Jimmy and messages for his family shared by CC's community. You can find more messages here.
I am truly saddened to hear the news. He was and will always remain an inspiration to our whole community including me. – SooHyun Pae, CC Korea

Jimmy is one of the few jurisdiction project leads I first met. I admire his thoughtfulness and passion ever since. I miss you, my friend. – Tyng-Ruey Chuang, CC Taiwan

When I met him at CC Asia Conference in Seoul, he gave us a great smile and that made us relaxed and united as Asian community. Everyone will miss him a lot. – Chiaki Hayashi, CC Japan

I will never forget his passion and warm smile forever. Good bye, Jimmy, my old friend. Rest in Peace. – Jay Yoon, CC Korea

Jimmy was the sweetest person and such a dear friend. He always made me smile. He will be remembered fondly and with much love. – Alina Ng, CC Malaysia

His wisdom and sense of humor will be deeply missed. – Juan-Carlos De Martin, CC Italy

His enthusiasm will remain in our hearts forever. – Nevenka Antic, CC Serbia

Jimmy's passion, wisdom and warm smile inspired us a lot. We will miss him deeply. – Chunyan Wang and the rest of the team at CC China Mainland

Thank you to the community that Jimmy helped build for showing all of us how much he meant to us. – Lawrence Lessig, Board

CC Birthday Party in Manila (Jimmy center back) / CC Philippines / CC BY-NC
2 Comments »

Tower / Paul Holloway / CC BY-SA
We are pleased to post draft 2 of 4.0 for public discussion. This comes after several months of substantive conversations on a number of policy issues, with input solicited from our global community on the CC license-development list (archive), through affiliate consultations, via comments posted directly on our 4.0 wiki, and submissions to staff.
We fielded comments from an impressive number of jurisdictions — more than 50 by our estimate. The combined input reflects an incredibly diverse set of opinions and an equally diverse group of constituents. Individual creators, educators and educational institutions, governments, policy makers, academics and many others all added their voices to the conversation. We received a great deal of input and revision proposals, and people shared many informed (and sometimes passionate) opinions on a wide range of topics. And while compromise and consensus are not always achievable, we feel the decisions reflected in draft 2 are well grounded and considered.
Indeed, several decisions to leave existing 3.0 provisions unchanged (such as the scope of NonCommercial and ShareAlike, as well as the prohibition on TPMs) follow threads of consensus that emerged during the process. Moreover, they are consistent with our responsibility as a steward to avoid disrupting expectations absent a compelling justification and corresponding (anticipated) benefit. These outcomes also further the goals and objectives established for 4.0. We encourage a close review of the relevant pages on the 4.0 wiki for details on these decisions and more. Thanks to all who contributed to improving the 4.0 draft.
Although much progress has been made, policy and other topics remain that will benefit from your input before the next draft is published in October. Although we will be focusing much of the discussion on an identified set of issues, input on any topic or proposal of interest is welcome. Among others, we plan to solicit feedback and discuss branding and related proposals for the NC (and possibly ND) licenses, and to continue work toward compatibility with other licenses. We will also be examining in more detail how the licenses work with data and databases to ensure they operate smoothly and as expected.
Note that this 4.0d2 comment period is shorter than the previous, and is expected to close in early September.
Please contribute to this next important step in the versioning process, and watch for updates on this weblog. You can give your input on open issues and the current draft by joining and posting to the CC license development and versioning list, or by contributing ideas directly to the 4.0 wiki.
Thanks again for a productive comment period. We look forward to hearing from you in this second and equally important phase.
2 Comments »
Creative Commons is proud to announce the launch of our new license chooser tool. The license chooser has been completely redesigned for greater clarity and ease of use. While the original license chooser was successful at simplifying the act of selecting a license and applying it to one's work, its linear workflow resembled a registration process. Furthermore, as the tool had been extended numerous times, its interface became more and more cluttered. While the redesign is a total user interface overhaul, feature-wise there isn't anything new that wasn't already somewhere in the license engine. This may come as a surprise to many users familiar with the old tool.
From left to right: The original chooser's selection page, the previous chooser's results page, and the recently redesigned interactive license chooser.
CC BY
First and foremost, the license chooser is not a registration tool. It never was. But the old chooser's interface was a form you would fill out and submit to our server. The server would then return a page showing what license was chosen by the user, and provided HTML that the user could copy and paste onto their website. That page also provided other information and options for marking one's work. These additional options were tucked to the side, much like fine print, so most users ignored it. What was going on here was that the form you filled out added metadata about the work you were licensing; the HTML on the results page contained that information in a standardized way so that computer programs (like search engines) could read it. The new license chooser does away with the Submit button and more clearly explains what the metadata fields are, and that they are completely optional.
The license chooser does not generate licenses. There are six Creative Commons licenses available, which work internationally, and additional ports of these six licenses exist for specific legal jurisdictions. The license chooser is an exploration tool. To underscore that, the new chooser combines the selection and results pages into four simple panels. Some information that was already on the license deeds is presented in the chooser now. This creates a nonlinear work flow: adjusting information in one panel has an impact on the contents of other panels. This encourages a kind of back-and-forth interaction, which both exposes options that may have not been clear before (like embeddable XMP metadata instead of HTML, or a simple notice for offline works) and allows the user to make a more informed decision about selecting the license most appropriate to their circumstances and the tradeoffs between various options.
We've gotten a few questions about the "This is a Free Culture license" and "This is not a Free Culture license" messages on the chooser. The concept of Free Culture has its roots in the history of free and open source software, and it's an important philosophical underpinning to the CC license set. In English, the word "free" means either something without cost, or something that is unrestricted. The "free" in Free Culture refers to this later case. As with free software, it's "free as in freedom, not as in free beer."
Our license deed pages already contained information about whether the license was a Free Culture license or not. For example, Attribution-Sharealike is a Free Culture license. The deed has a green color scheme and a badge. On the other hand, Attribution-NonCommercial-NoDerivs includes restrictions that make it by definition not a Free Culture license. Thus, it has a different color scheme and no badge. Because it's unlikely that users will open the deeds and compare them side by side, the new license chooser includes this information in the selected license panel; as well as links to more information and newly written help text that discusses the advantages and disadvantages in selecting a Free Culture license. Ultimately, the user should select the license they believe is most appropriate for their work given the circumstances of publishing.
A Free Culture approved license deed is seen on the left. The license deed on the right indicates that it is not for a Free Culture license.
CC BY
We feel the new interactive license chooser is a dramatic improvement, and it is exciting to see that simply better organizing the tool and adopting a minimalistic design has had the effect of making such a complex tool more accessible and better exposing users to the ideas behind the CC licenses and infrastructure.
4 Comments »
Creative Commons just reached an exciting milestone. As of this week, there are four million Creative Commons–licensed videos on YouTube. That's over forty years' worth of footage to remix and reuse, all licensed under CC BY, the most permissive CC license.
One thing that makes this mass of CC-licensed content really exciting is that all four million of those videos can be imported into YouTube's online video editor. By letting people remix and adapt videos without having sophisticated editing software or expertise, YouTube and CC are making it easier for anyone to build on the work of others. And that's pretty cool.
In her guest blog post on the YouTube blog, CC CEO Cathy Casserly muses on what's possible when YouTubers share their creativity:
Do you need a professional opening for your San Francisco vacation video? Perhaps some gorgeous footage of the moon for your science project? How about a squirrel eating a walnut to accompany your hot new dubstep track? All of this and more is available to inspire and add to your unique creation. Thanks to CC BY, it's easy to borrow footage from other people's videos and insert it into your own, because the license grants you the specific permissions to do so as long as you give credit to the original creator.
You can pass on the creative spirit when you publish your video, by choosing the option to license it under CC BY so that others can reuse and remix your footage with the YouTube Video Editor. This is where the fun really starts. Imagine seeing your footage used by a student in Mumbai, a filmmaker in Mexico City, or a music video director in Detroit. By letting other people play with your videos, you let them into a global sandbox, kicking off a worldwide team of collaborators. We all yearn to create and contribute — now you can join the fun, and open the door to collective imagination.
3 Comments »
The first School of Open Virtual Sprint is set to take place next Tuesday, 24 July from 2:00-5:00pm Berlin time (UTC/GMT+2). Learn how you can participate below.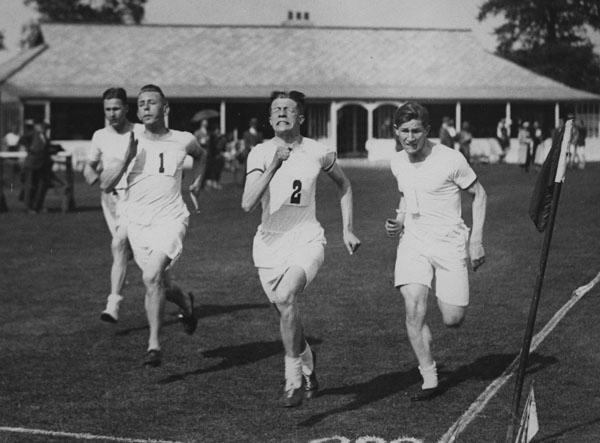 LSE Sports Day, Malden Sports Ground, c1920s / LSE Library / No known copyright restrictions
Before the Sprint
During the Sprint
After the Sprint
Related: Help Us Build the School of Open
Comments Off

on School of Open Virtual Sprint: How you can participate
It has been a little over a month since I joined Creative Commons as Community Support Intern, and now that I'm in the thick of things, I wanted to share with you what I'm working on this summer.
Allow me to introduce myself. I am currently a Master's student at Tufts University's Fletcher School of Law and Diplomacy. Prior to undertaking graduate studies, I worked at the World Bank in Washington, D.C. I am very interested in the international open movement, and am hoping to apply what I learn this summer in the field of public policy.
At CC, I am working to support the international affiliate community. Currently, I am developing toolkits that will help CC country teams educate the public in more than seventy countries about the benefits and appropriate use of CC licenses.
The toolkits I'm working on at the moment cover CC license use in three important areas: government and public sector information, journalism and blogging, and new business models.
Government agencies collect and analyze huge amounts of information, developing databases and producing reports, all of which are funded by taxpayers. The use of CC licenses allows the information captured to freely flow among government agencies, as well as out to the nonprofit and private sectors, where it could be reused, built upon, and remixed in new and unexpected ways, maximizing the benefits for society at large.
In contrast, the journalism industry has already been in turmoil for the last decade as widespread adoption of the internet disrupted traditional business models for publishing news. However, new publication models are emerging, some taking advantage of the pre-cleared permissions contained in CC licenses to quickly disseminate information for maximum impact. Additionally, blogs, social media, and collaborative production platforms like Wikipedia have risen to become an important source of analysis, commentary, and even breaking news. Authors using these platforms frequently reuse text, photos, and videos from other sources, which may claim copyright for the materials. They must be educated about copyright as well as the advantages of using materials released under open content licenses in order to maximize creative expression within the existing framework of copyright law.
Finally, my goal in developing a toolkit on business models is to better inform CC license users about the new open business models that are emerging as internet platforms grow and develop. The message will be that choosing open content licenses for your work does not necessarily mean forgoing an opportunity to make money, and is in fact an important part of many online revenue models.
The toolkits will include information on how to use CC licenses in these spheres, frequently asked questions, relevant articles, case studies, videos, etc, and will be available for all users on the CC website, under a CC license, of course.
I would love for anyone who is interested to contribute by letting me know about materials that you know of or use regularly on these topics. Please e-mail me at info@creativecommons.org.
I will highlight materials that are especially high-quality or interesting in a future blog post.
1 Comment »
Creative Commons, the U.S. Department of Education, and the Open Society Foundations are pleased to announce the winners of the Why Open Education Matters video competition. The competition was launched in March 2012 to solicit creative videos that clearly communicate the use and potential of free, high-quality Open Educational Resources — or "OER" — and describe the benefits and opportunities these materials create for teachers, students, and schools everywhere. U.S. Secretary of Education Arne Duncan announced the competition with a video on the Why Open Education Matters website. The competition received over 60 qualified entries. The winning videos are displayed below.
First Prize
Congratulations to Blinktower, an extremely talented creative agency based in Cape Town, South Africa.

Second Prize
Congratulations to Laura Rachfalski and her great team. Laura is an artist, videographer and photographer from Philadelphia.

Third Prize
Congratulations to Nadia Paola Mireles Torres and her collaborators from the design firm Funktionell. It's also amazing to see that Nadia has made all the video assets available for download and reuse under CC BY!

The prize winners were decided by a panel of distinguished experts including Davis Guggenheim, Nina Paley, Liz Dwyer, Anya Kamenetz, James Franco, Angela Lin, and Mark Surman. Due to technical problems with the public voting on the Why Open Education Matters website which prevented some persons from submitting a vote, the third prize video has been awarded by the judging panel.
In addition to the winning videos, all of the qualifying videos are available for viewing on the competition website, http://whyopenedmatters.org. All of the videos are licensed CC BY, which means others may distribute, remix, and build upon them, even commercially, as long as they give credit to the creators.
Congratulations to the winners, and thank you to everyone who submitted a video for sharing their creativity, talents, and passion in helping explain and promote Open Educational Resources.
14 Comments »
previous page
—
next page