Creative Commons is delighted to welcome Cable Green as the organization's interim Chief Executive Officer. As we recently announced, Ryan Merkley has stepped down after five years of service as CEO to start a new position at Wikimedia. We are thankful to Ryan for his leadership at CC and excited for him and the Commons that he will continue as a leader in the open knowledge community.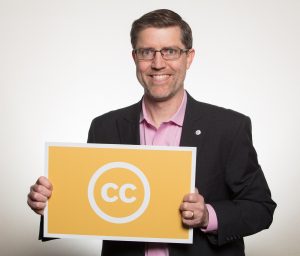 Interim CEO Cable Green has been a key member of the Creative Commons staff for the past eight and a half years. As CC's Director of Open Education, he has been one of the world's most effective advocates for open licensing policies, and has worked extensively with the global open education community to improve access to effective open educational resources. Cable will continue to spearhead our efforts to advance open education as he takes on this new interim leadership role at CC.
The rest of the Creative Commons board of directors and I are very grateful to Cable for stepping into this new role. He is the perfect person to lead CC during this crucial transition period. He knows and understands the organization, the community, and the important work we do better than anyone. We couldn't be more confident in him and the rest of the CC staff.
We are also excited to announce that we have launched a CEO search process to identify our next permanent CEO. This process will include outreach to the global Creative Commons community for insights about the future of CC and its leadership.
The Commons is ever-changing and resilient. It is my great honor to cultivate it along with Creative Commons staff, our global network, and supporters.
Share alike, friends!
Molly Van Houweling
Creative Commons Board Chair