2022 in Review: a Look at Creative Commons' Open Culture Program
Open Culture
2022 was quite a year for the Creative Commons (CC) Open Culture Program, thanks to generous funding from Arcadia, a charitable fund of Lisbet Rausing & Peter Baldwin, and the Samuel H. Kress Foundation. In this blog post, we take a look back at some of the year's highlights in our program's four components: Policy, Infrastructure, Capacity building, and Community engagement. 
Policy 
Engaging with UNESCO to promote open culture in the framework of MONDIACULT 2022, we hosted UNESCO ResiliArt x Mondiacult – From Access to Culture to Contemporary Creativity in February and heard from artists, creators, and curators about how open access is an essential ingredient for vibrant cultural life. In September, we delivered the keynote at Digitalizar en común: formas distribuidas de propiedad y autoría culturales organized by CC México — you can watch the recording on Facebook — and called participants to MONDIACULT 2022 to support better sharing of cultural heritage. We welcomed the Mexico City Declaration for Culture, declaring culture a global public good, and celebrated UNESCO's Memory of the World's 30th anniversary.
Members of the open culture community from both the CC copyright platform and the CC open culture platform alongside global supporters co-drafted the policy paper Towards Better Sharing of Cultural Heritage — An Agenda for Copyright Reform, published in April, to serve as a reference point for the community's advocacy work in copyright reform in the cultural heritage context. It is available in 6 languages, and more translations are coming. The paper was the basis for discussion during a virtual workshop in May, which paved the way for the development of a guide for policymakers Towards better sharing of cultural heritage — A Creative Commons Call to Action to Policymakers, released in December. We will be presenting the guide at Open Nederland's Public Domain Day on January 13, 2023, among other events.  
We also pushed for better exceptions and limitations for cultural heritage in international copyright law at the WIPO Standing Committee on Copyright and Related Rights (SCCR) in May, and expressed our views on Italy's national cultural heritage digitization plan, which found an echo in our joint statement with Communia for protecting the public domain in the case opposing the Uffizi gallery in Florence to French fashion designer Jean Paul Gaultier.  
Infrastructure
On Public Domain Day, January 1, 2022, we launched the CC Public Domain Tools in GLAMs – Needs Assessment to probe needs around CC tools in the cultural heritage sector, notably galleries, libraries, archives and museums (GLAMs). A survey was shared in English, French and Spanish, and gathered 133 responses from 43 countries on five continents. We are currently processing the data and will soon publish a report and roadmap for future action. Watch this space! 
Capacity building
January marked the launch of the first Open Culture/GLAM Certificate cohort of 20 participants from six countries. And in February, CC made scholarships available for the June and September Certificate courses. The scholarships enabled participants from eight countries to take the June Certificate alone — including colleagues from Open Future, Wikimedia Italy, University of Leeds, the Wasila Museum, and other academic and research institutions. Thinking about enrolling in our next CC Certificate cohort? Check out this interview with Revekka Kefalea, a graduate of the CC Certificate for GLAM, and read what people say about CC Certificate courses. 
You can register for a 2023 course for open Culture/GLAM. To access a 60% scholarship for a Certificate for Open Culture/GLAM course, simply (1) select a Certificate for "Open Culture" course from the 2023 list of courses. When registering for a course: (2) Select the option to "add promo code" and type in: Y2GLAMSCHOLAR60%. That will provide you with a 60% discount on registration, while tickets last. Note: there are no refunds on scholarship tickets.  
We also offer on-demand training and consulting services. Reach out (info@creativecommons.org) to find out more.
Community engagement 
Throughout the year, we facilitated the Open Culture Platform, a space for heritage professionals and open advocates to share resources. We held monthly calls and organized several collaboration opportunities, including six working groups tackling emerging issues, such as traditional knowledge and copyright, heritage materials from community-driven initiatives, contemporary archiving of cultural heritage, "attribution" models for public domain materials, a glossary and bibliography of open culture, and the ethics of open sharing. Interested in joining the platform? Read a few members' experiences of taking part in platform activities, and become a member yourself! Keep an eye out for the working groups' reports and webinar recordings, coming soon on CC's Medium. 
In January, we launched CC Open Culture VOICES, a multilingual series of 35 short interviews with dozens of distinguished experts from around the world — historians, researchers, activists, curators, professors, and many others — which engaged 3 million people across multiple platforms. Stay tuned for Season 2, a whole series of new episodes to be released in the coming months! 
We also published eight community case studies, which show some of the opportunities, challenges, and needs of low-capacity and non-Western cultural heritage institutions. This helped us discover diverse and inclusive avenues of engagement with the global community, as well as generate a more global, inclusive, and equitable picture and understanding of open culture. 
On Valentine's Day, February 14, we launched the Open Culture Remix Art Contest calling on artists to remix public domain or openly licensed works from open GLAM collections. Not only did this showcase contemporary creativity, it also canvassed the importance of CC's infrastructure for the dissemination and revitalization of culture. Take a look at the 1st place winner's work: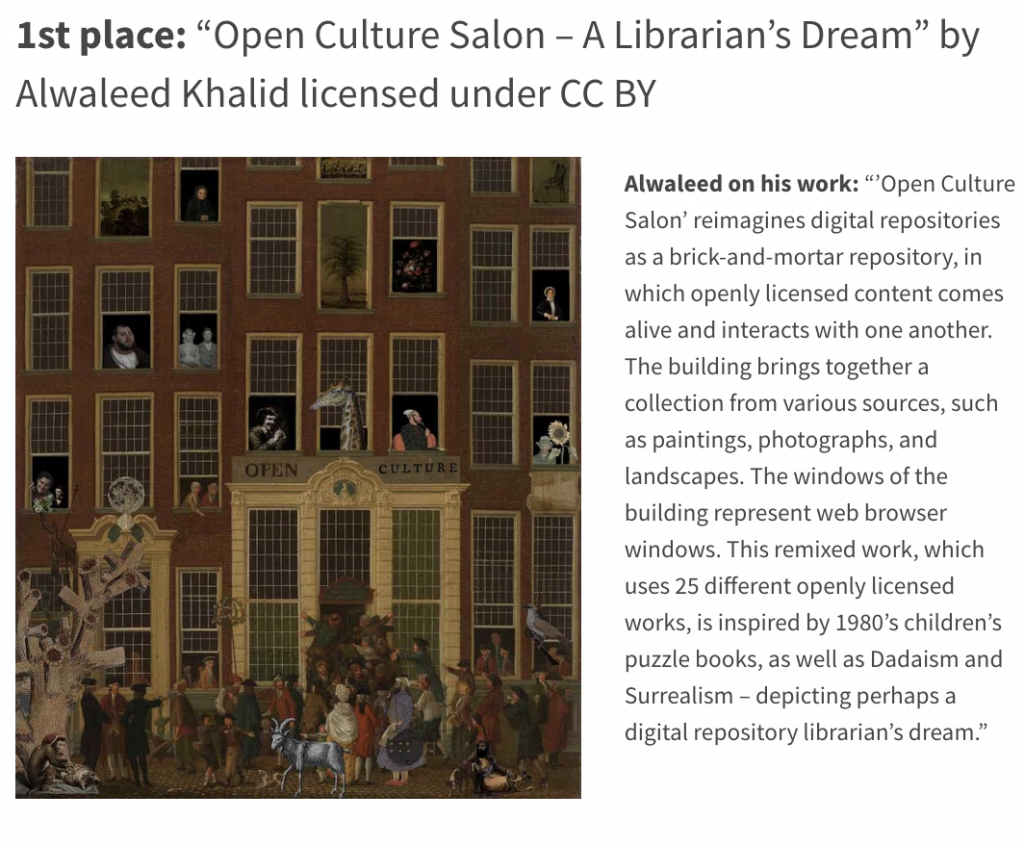 In July, we published a comprehensive report on the Barriers to Open Culture, which lays out the legal, financial, resource, and technical barriers faced by institutions wishing to open their collections. We looked at past research, notably Andrea Wallace's Barriers to Open Access, and analyzed our VOICES interviews for a wide range of insights, coming up with Money, People and Policy as the three main barriers. In 2023, we aspire to develop a report on the Benefits of Open Culture. 
We have lots of other plans for 2023 and can't wait to start a new chapter of CC's Open Culture program. Want to stay informed and participate? Make sure to join our Open Culture Platform and sign up to our mailing list. You can also visit the CC Blog for more on open culture news (we hosted and attended numerous webinars, expert talks, panel discussions and community gatherings, check them out) and subscribe to the CC Newsletter for CC-wide updates. You can also go back in time and listen to a presentation of the open culture program on the podcast Open Minds… from Creative Commons, giving an overview of activities in February 2022.
?Do you want to know more about open culture at Creative Commons? Write to us at info@creativecommons.org. 
11 January 2023
Tags
Related posts