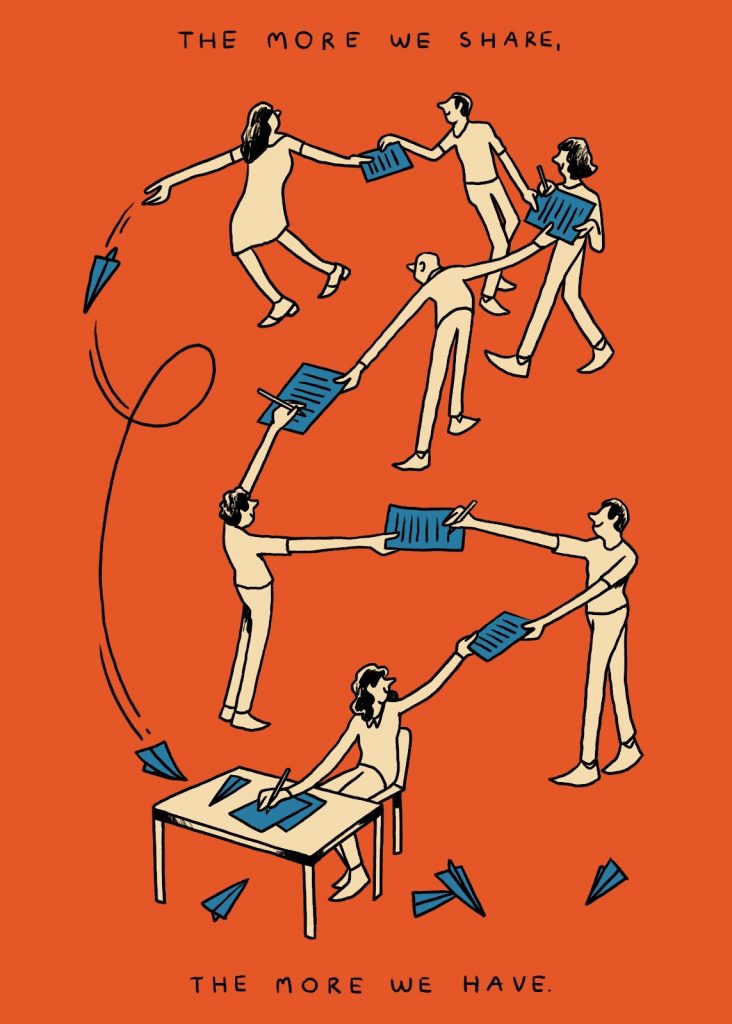 As part of our #20CC anniversary, last year we joined forces with Fine Acts to spark a global dialogue on what better sharing looks like in action. Our #BetterSharing collection of illustrations was the result — we gathered insights from 12 prominent open advocates around the world and tasked 12 renowned artists who embrace openness with transforming these perspectives into captivating visual pieces available under a CC license.
Each month throughout 2023, we will be spotlighting a different CC-licensed illustration from the collection on our social media headers and the CC blog. For April, we're excited to showcase "The More We Share, The More We Have (series 1/2)" by Brazilian illustrator and cartoonist, Pietro Soldi. The piece, licensed under CC BY-SA 4.0, was inspired by a quote from Cory Doctorow, science fiction author, journalist and tech activist:
"In my utopia, we figure out how to create and keep separate rules that regulate the relationships between creators and their industry (e.g. writers and publishers, musicians and labels, etc); and rules that regulate the relationships between creators and their *audiences*. The things an audience does with a work — and the way that they relate to its creator — shouldn't be a free-for-all; nor should the way that creators relate to those audiences. But whatever those rules should be, they will necessarily be very different from the way that the creative industries regulate interactions among their constituent actors."
Meet the artist: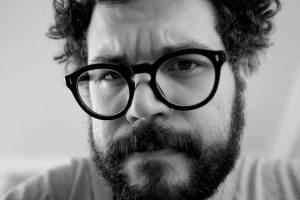 Pietro Soldi is a Brazilian illustrator and cartoonist hailing from São Paulo and currently based in London, UK. Born in 1990, Pietro has made a name for himself in the world of illustration and comics. Immensely inspired by the world of newspaper comic strips, Pietro's work is distinguished by its fluid linework, vibrant colors, and delightful humor. While he has a passion for black ink on paper, Pietro revels in opportunities to experiment with diverse materials and techniques, such as animation. Pietro is 6′ 4″ which makes him easily spottable from a distance or in a crowded place.
Follow Pietro on Instagram:@pietro.soldi
Follow Pietro on Twitter: @pietrosoldi
The full #BetterSharing collection is available on TheGreats.co to be enjoyed, used and adapted, and then shared again, by anyone, forever. View the full collection >>