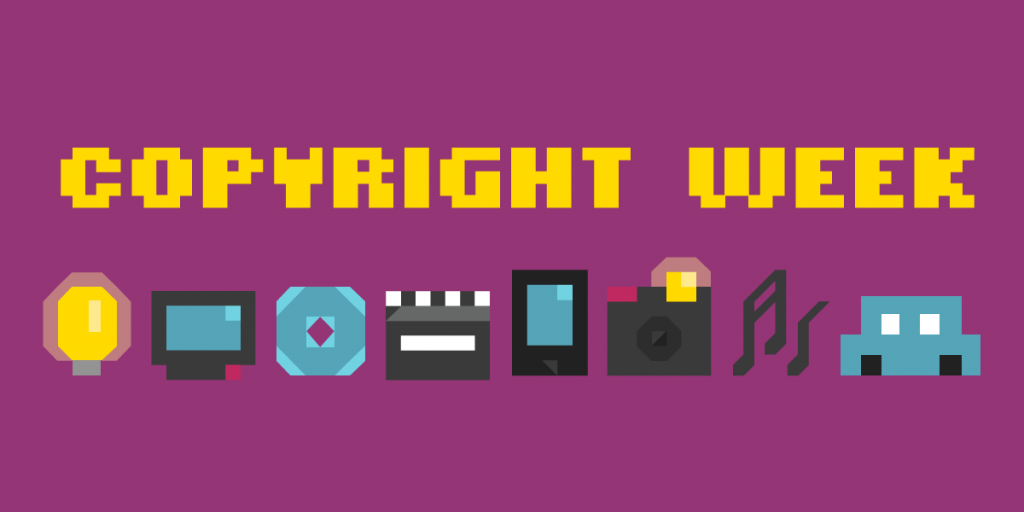 We're taking part in Copyright Week, a series of actions and discussions supporting key principles that should guide copyright policy. Every day this week, various groups are taking on different elements of the law, and addressing what's at stake, and what we need to do to make sure that copyright promotes creativity and innovation.
Every year we breathe a collective sigh of disappointment for millions of pieces of creative content that will not enter the public domain because of incredibly long copyright terms. We all know that creativity and knowledge owes something to what came before it—every creator builds on the ideas of their predecessors. Copyright terms that last decades past the death of the author will undermine the potential of the commons and needlessly limit the potential for new creativity.
And in the last few years, we've seen additional threats to the commons from prospective trade agreements such as the secretive Trans-Pacific Partnership. If the TPP comes into effect, it would force member nations to set their term of copyright protection to life of the authors plus 70 years (if they do not already have that term), which increases the term an additional 20 years past the baseline required by existing international agreements. This means that works still under copyright in Brunei, Canada, Japan, Malaysia, New Zealand, and Vietnam will be automatically granted another 20 years of protection before they enter the public domain. We're in agreement with leading economists that there is no logical reason to increase the term of copyright: an extension would create a tiny private benefit at a great cost to the public. It is estimated that the copyright term extension that would be required if the TPP is enacted would cost the public hundreds of millions of dollars each year.
At the same time, we celebrate the amazing works that are finally a part of our shared public domain. In addition to works that are now in the public domain because their copyright has expired, we've seen several interesting things happen this last year that is helping authors to share their works in the public domain right now. This is because major online content creation and sharing platforms like Flickr and Medium have added options to share works in the public domain using the CC0 Public Domain Dedication and the Public Domain Mark. What is CC0? It's a tool that allows anyone to waive their copyright and place a work directly into the global public domain—prior to the expiration of copyright. What is the Public Domain Mark? It's a digital stamp that anyone can apply to a work that's already in the worldwide public domain—such as very old works whose copyright has clearly expired.
First stage of Falcon 9 rocket by SpaceX, CC0
What does the public get when authors share content in the public domain? We get to access and use an incredible body of content, including photos from SpaceX, NASA, and millions of others creators.
In the 2015 State of the Commons report, we noted a huge increase in the number of works dedicated to the public domain using the CC0 Public Domain Dedication and out-of-copyright works marked with the Public Domain Mark. According to the data, the total number of public domain works using these tools in 2014 was about 17.5 million. That number jumped to nearly 35 million in 2015. This means that the size of the CC-marked public domain nearly doubled over the last year. This is, in part, due to the tools being more widely and adopted by platforms like Europeana and Flickr. Of course, the public domain is not limited to content marked with CC's public domain tools, but providing clear information about the public domain status of works alerts subsequent creators they can use those works without any restriction.
Even though copyright lasts far too long, the public domain is not lost. By fighting  for more reasonable copyright policy, and continuing to develop and steward legal tools that empower sharing in the public domain, we can help regain the public domain for all of us.