The Smithsonian—the world's largest museum and research institution—announced yesterday  Smithsonian Open Access, an initiative that removes copyright restrictions from 2.8 million digital collection 2D and 3D images and nearly two centuries of data.

This major initiative uses CC0—Creative Commons' public domain dedication tool—to make millions of images and data freely available to the public.
"Our goal for Smithsonian Open Access is to make the nation's collection available to people around the world for any purpose…," explained Effie Kapsalis, the senior digital program officer at the Smithsonian who led the strategy and implementation of Smithsonian Open Access for over a decade. "Over 100 staff members met every two weeks over the past year to create the specs and platforms," wrote Kapsalis, "and I am extremely proud of the Smithsonian Open Access Values Statement that reflects our responsibilities as stewards of the nation's collections, and that will be a guiding star as we move to future phases."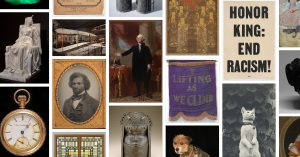 Included in the collection are high-resolution images from all of the Smithsonian's 19 museums, nine research centers, libraries, and archives (including from the National Zoo); from portraits of historic American figures to 3D scans of dinosaur skeletons. Research datasets and collections metadata are also included, which users can download and access through the Application Programming Interface (API) and GitHub data repository.
CC0 is once again being used to remove barriers to artistic and cultural artifacts.
We're excited to see this initiative come to fruition as members of the Creative Commons team, including our Interim CEO / Director of Open Education Cable Green, General Counsel Diane Peters, and CC GLAM platform lead Evelin Heidel have worked with the Smithsonian for the past few years on its open access policy. Thanks also to all of the CC alum (Jane Park, Ryan Merkley and more) who worked with the Smithsonian in prior years.
"Today's announcement matters because the Smithsonian is dedicating its works to the public domain using CC0, communicating to the world's museums that digitizing and using the right legal tools can and should be done," remarked Green at the Smithsonian Open Access launch event, "The Smithsonian is a leader in this space, and it is leading."
Watch video from the Smithsonian Open Access launch event here.
In the coming weeks and months, we'll be working to share all of the Smithsonian's millions of newly released works through CC Search, our tool that allows openly licensed and public domain works to be discovered and used by everyone. Additionally, we are pleased to be working with the 3D content platform Sketchfab to make all of the Smithsonian's 3D scans and models available for download and reuse through CC Search. This coincides with Sketchfab's announcement that the platform has added formal support for CC0 so that any cultural institutions can now easily dedicate their 3D scans and models to the public domain.
This is an extraordinary time for open access and the public domain, as the Smithsonian joins a growing list of other major cultural institutions that recognize the importance of removing barriers and increasing accessibility to artistic and cultural artifacts.
Let us know how you reuse, remix, and reshare these resources from Smithsonian Open Access by tagging us on Twitter @creativecommons and using the hashtag #SmithsonianOpenAccess!
---
We hope to encourage more cultural institutions to embrace open access initiatives by offering support, training, and education activities. This is a core aspect of our partnership with the Wikimedia Foundation in the OpenGLAM space. We're currently preparing a Declaration on Open Access for Cultural Heritage that we expect will help cultural institutions understand how open access to cultural heritage is key to achieving knowledge equity.
If you are affiliated with a GLAM institution and would like guidance on using CC0, or any of our CC licenses, please email us at info@creativecommons.org We're here to help!