As part of our #20CC anniversary, last year we joined forces with Fine Acts to spark a global dialogue on what better sharing looks like in action. Our #BetterSharing collection of illustrations was the result — we gathered insights from 12 prominent open advocates around the world and tasked 12 renowned artists who embrace openness with transforming these perspectives into captivating visual pieces available under a CC license.
Each month throughout 2023, we will be spotlighting a different CC-licensed illustration from the collection on our social media headers and the CC blog. For September, we're excited to showcase "Open Is Beautiful" by Ukrainian illustrator, Tanya Korniichuk. The piece, licensed under CC BY-NC-SA 4.0, was inspired by a quote from Cecília Oliveira, Executive Director of Fogo Cruzado:
"The powerful hide important data to prevent us from demanding change. This is true with armed violence in Brazil, but is also true where you live on issues that you care about. Find a way to use open data to make changes in your society.

To me, Better Sharing Brighter Future means… a city where people aren't afraid of being shot. I created Fogo Cruzado because the authorities were not sharing important data, and they did it to prevent accountability. And, unfortunately, there were no institutions out there who were ready to fill in the gap. So I decided to do it myself. We had offers to make money off of selling our data, and we had others who were taking our data and using it poorly, but we knew that the ONLY way to make this situation better was to make our work open and free and easy to access for everyone. Our focus is armed violence, but really our mission is about fighting secrecy."
Meet the artist: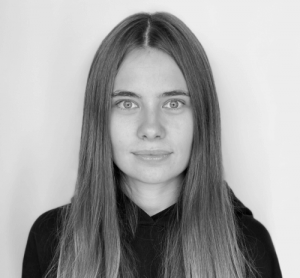 Tanya is an illustrator from Kyiv, Ukraine, based in Vilnius, Lithuania. She gets her inspiration from simple things, people around her, her lovely dog. Through her expressive and bright style, she translates complex ideas into dynamic visuals, deftly encapsulating concepts. In her works she uses only standard shapes, so anyone can get inspired and recreate it.
Follow Tanya on Instagram:@tanya.korn
The full #BetterSharing collection is available on TheGreats.co to be enjoyed, used and adapted, and then shared again, by anyone, forever. View the full collection >>
05 September 2023
Tags
Related posts