Open Access Week at the University of Michigan is "a week-long, campus-wide exploration of Open Access." And a discussion sponsored by the Michigan Library on this topic couldn't come at a better time; libraries are facing tough economic situations and the current political discourse around copyright and open access needs to be addressed. Featured Commoner (on behalf of Michigan Libraries) Molly Kleinman said it best on her personal blog announcing Open Access Week:
First we have the return of the dreadful Fair Copyright In Research Works Act, which is opposed by just about everyone except commercial publishers, including 33 Nobel Laureates in science. Then comes the word that together Elsevier and LexisNexis earned over $1.5 billion US in profit in 2008. For Elsevier that's an adjusted operating margin — a profit — of 33%. While universities across the country are facing budget cuts of 20% or more, Elsevier brings in 33% profits, largely on the backs of university libraries. And economic news more broadly indicates that no library will escape unscathed. When Harvard starts laying off librarians and eliminating subscriptions, we're all in trouble.
And that is only a small sub-section of the issues facing libraries today, including big issues like the Google Books Settlement. What better time to speak about the use of Creative Commons licenses in academic journals and what technological tools Creative Commons is developing to build an ecosystem of openness? With the right tools and the right attitude academic libraries will be a major player in fixing many of these issues.
Nathan Yergler, CTO at Creative Commons, will be speaking during Open Access Week on March 23rd on the University of Michigan campus. Everyone is welcome to join this event, and all of the events during Open Access Week. For the details about Nathan's talk, check out the the schedule.
2 Comments »
If I hadn't interned for Clarity Films one summer, I would never have learned most of what I know now about the apartheid, Nelson Mandela, and Desmond Tutu. I spent hours transcribing interviews and condensing documentary footage into some type of digital package that I don't recall the name of (nor do I remember the outdated technology I used). What I do remember: the world's reactions to the tumult that surrounded South Africa within the past fifty some odd years.
Now, anyone can learn about South Africa and its rich heritage with the recent launch of OpenSA, "a pilot project to make South African heritage more accessible for remixing and re-publishing by online creators." From the announcement at The African Commons Project:
"In collaboration with SA Rocks and the African Commons Project, OpenSA! is collecting, tagging and managing donations from people who are willing to make their material freely available online. OpenSA! will also be helping to coordinate outreach to South Africa's young creators to enable them to learn more about how to find open content that they are free to remix and share.
As access to the Internet grows in South Africa, so too does the range of creative activity by a new generation of active online citizens. Internet publishing in the form of blogging and citizen journalism, online publishing of photographic, video and music publishing are all part of a wide range of democratic speech that we as a young nation are trying to encourage and nurture."
Some media they've found and posted so far:
A documentary about one of the first Chinese restaurants in Cape Town (CC BY-NC by Link Media Inc.)
Photos of Johannesburg (CC BY-NC-SA by Gregor Rohrig)
Anyone can get involved and contribute. We encourage you to choose a CC license and send in your materials, or build on what's already out there.
Comments Off
Happy Inauguration Day! Following on the heels of Fred's post, I'd like to point out a Seminar on open knowledge that will take place on February 4th and 5th at the National University of Bogota. Access 2.0: A discussion on intellectual property from the sciences, arts, library sciences, and education is being hosted and coordinated by the National University of Colombia and the Karisma Foundation. It will address "the important changes [that have occurred] in the past decade with regard to "the way in which we create and broadcast knowledge." The Seminar acknowledges the emerging necessity of open educational resources (OER) and their future impact on the state of education:
"The issue of intellectual property and of copyright has ceased to be the exclusive province of lawyers, or to be relevant only in the area of the commercialization of cultural products. It no longer deals solely with concerns regarding remuneration of professional artists. For this reason, the responsibility of academics, teachers, scientists, and managers of information and knowledge in general in the construction of the legal culture has acquired a new and updated dimension."
Our very own John Wilbanks, head of Science Commons, will speak at the meeting. The Seminar itself is free of charge and open to the public, though afternoon workshops will require prior registration.
The Seminar is the first step in a four objective research project examining intellectual property in public policy. For more information, see the description of the project on ccLearn's resources page.
Comments Off
CC Australia writes about an important report that advises Australian governments to follow open publishing standards and recommends using a Creative Commons license for government material released for public information.
Those interested in open access to public sector information will be excited to see the results of a recently released Australian Federal Government Review of the National Innovation System, http://www.innovation.gov.au/innovationreview.

The final report, titled VenturousAustralia, was prepared for Senator Kim Carr, Minister for Innovation, Industry, Science and Research, by consultants Culter and Co, headed up by industry consultant and strategy adviser Dr Terry Cutler. It places a strong emphasis on open innovation, stating in the introduction:

"Today innovation is understood to involve much more than the transmission of knowledge down the pipeline of production from research to development to application. In the age of the internet, with the opportunities for collaboration which it opens up, open innovation is increasingly important."

Most importantly from an open access point of view, it was Recommendation 7.8 which is most exciting:

"Australian governments should adopt international standards of open publishing as far as possible. Material released for public information by Australian governments should be released under a creative commons licence."
The full report is available at http://www.innovation.gov.au/innovationreview/Documents/NIS-review-web.pdf.
1 Comment »
In April, ccLearn crossed telephone lines with Italy and Ukraine for the first time. Executive Director Ahrash Bissell spoke with eIFL.net, Electronic Information for Libraries, an international nonprofit organization whose interests, among many, lie in open access publishing and fair and balanced intellectual property laws for libraries.
Below is a follow-up interview over email with Rima Kupryte, Director of eIFL.net, and Iryna Kuchma, Program Manager of eIFL-OA (Open Access).
First, can you say a few words about yourselves and eIFL? How did you come to get involved in eIFL and to hold your respective positions within the larger framework? What about eIFL attracted you?
Rima
I am a professional librarian, graduated from Vilnius University in Lithuania. I joined the Open Society Institute – Budapest (OSI) Network Library Program late in 1995. The idea for eIFL was born at OSI and later the idea turned into an independent organisation which I joined from its establishment in 2003. Coming from Lithuania, which had poorly resourced libraries and where access to information was restricted when I was a student, I was very passionate about ideas—what could be done in order to improve libraries, open them and offer better services to its users. eIFL.net is a very innovative and creative organisation that offers a lot of opportunities and ideas; it makes things happen.
Iryna
eIFL's mission statement, "Enabling access to knowledge through libraries in developing and transition countries," appeals to me a lot. I graduated from the social sciences department and access to knowledge was one of my research topics as well as social aspects of open access, free and open source software and open content licenses. For nine years I worked for OSI in Ukraine and Open Access was one of my program areas. It was fascinating to see the positive changes in scholarly communication and I am glad I can go on with this program – Open Access – in eIFL.net.
What about eIFL itself–can you sum up what it stands for, its mission and overarching agenda? Assuming you don't already have one, if you could come up with a catchy new slogan for what eIFL is trying to do, what would it be?
eIFL.net is a not-for-profit organization that supports and advocates the wide availability of electronic resources by library users in transitional and developing countries. It is universally acknowledged that access to knowledge is fundamental to education and research and the creation of human capital upon which the development of societies depend. This is especially true in a knowledge society where economic progress depends on having a literate and educated population. Libraries and education are synonymous. A library has little meaning if it cannot impart knowledge. Good education cannot exist without access to quality information resources to support teaching, learning and research. Our current slogan is "Enabling access to knowledge through libraries in transition and developing countries". In July we will be having an eIFL visioning retreat to brainstorm and think where eIFL.net will be five to ten years from now.
Iryna
eIFL.net is a powerful network of 2,220 libraries in 47 transitioning and developing countries with a combined population of 800 million people including Armenia, Azerbaijan, Belarus, Bosnia and Herzegovina, Botswana, Bulgaria, Cambodia, Cameroon, China, Croatia, Egypt, Estonia, Georgia, Ghana, Jordan, Kenya, Kosovo, Kyrgyzstan, Laos, Latvia, Lesotho, Lithuania, Macedonia, Malawi, Mali, Moldova, Mongolia, Mozambique, Nepal, Nigeria, Palestine, Poland, Russia, Senegal, Serbia, Slovenia, South Africa, Sudan, Swaziland, Syria, Tajikistan, Ukraine, Uzbekistan, Zambia and Zimbabwe. In 2008, a pilot Open Access workshop is planned in Latin America – Cuba.
I've gathered (mainly from information on your website) that eIFL and Creative Commons are promoting and doing similar things. For example, the vision of the eIFL program "Advocacy for Access to Knowledge: copyright and libraries", known as eIFL-IP, is the development of fair and balanced copyright laws taking into account libraries and the public interest. How would you relate these goals to CC and CC-licensing?
The goal of eIFL-IP is to maximise access to knowledge for education, research and civil society through fair and balanced copyright laws that take into account the needs of libraries and students, researchers and professionals who depend on library services to advance their education, careers and life opportunities. Our vision is that eIFL-IP librarians will become activists and leaders for promoting access to knowledge, especially in the digital age. We are achieving this by
creating a network of library copyright specialists and building capacity in the library perspective in copyright issues.
becoming the recognised advocate for library copyright issues in developing and transitioning countries at international and national levels.
encouraging the international library community to place the issues of developing and transitioning countries high on their agendas.
eIFL-IP and CC are natural allies because
eIFL-IP supports the use of alternative models through open content licenses, such as CC and GPL. eIFL.net advocates for open access and OER.

eIFL-IP and CC both promote access to content (for CC digital content).
eIFL-IP builds capacity and raises awareness, including how to use copyright law as an enabler of access to knowledge rather than a means to distort, deny or delay access. CC licenses support this goal by promoting the full spectrum of possibilities within the copyright system, i.e. from all rights reserved to the public domain.

As information professionals, librarians should be in a position to advise library clients on issues relating to access and use of digital content. With its powerful brand, CC helps librarians to understand and promote issues relating to access.
For more information on the library perspective on CC: http://www.eifl.net/cps/sections/services/eifl-ip/docs/handbook-e/#cc
What are some of the major challenges eIFL-IP faces?
The challenge that remains is how to build capacity at the national level; when we are working well at both international and national levels, we will achieve the best results.
The relevance of copyright to libraries wasn't always recognised because the connection with day-to-day library activities was not fully understood. This is changing, however, and eIFL-IP librarians are becoming more aware and thus are more active. Once this connection is made, the importance of advocating for better copyright laws will be better understood.
Good activists are in short supply so it is disappointing to lose trained people due to changes in jobs or through emigration. We rely almost entirely on volunteers which limits our ability to make too onerous demands or to enforce deadlines.

How do you think these challenges will be overcome?
By focusing on building capacity
identifying "champions" and encouraging those who are active e.g. Moldova came to WIPO in March 2008, support for regional events (e.g. Nigeria Library Association pre-conference on copyright and digitisation in June 2008).
developing a curriculum in copyright issues for libraries for mass training (see below).
You are also now developing a distance learning course on copyright for librarians jointly with the Berkman Center for Internet and Society at Harvard Law. Can you describe the project?
In partnership with the Berkman Center for Internet and Society at Harvard Law School in the USA, we are developing a brand new curriculum on copyright for librarians. This is a first, and we hope that many more librarians, especially in developing and transitioning countries, will benefit from the training and become advocates for access to knowledge.
The curriculum seeks to develop greater understanding of copyright by librarians. The goal is to build a human network from which they can draw support. We hope to reach a critical mass of librarians who can contribute to public discussion, who can take part in informed debate with government and industry representatives, and who can join the library community from the developed world by expressing their views in important international forums, such as the World Intellectual Property Organization (WIPO). The course should be implemented with strategic partners in the global South, such as library training and law schools in universities, as well as distance learning programs.
The goals of the course are:
To develop greater understanding of copyright by librarians by providing copyright training tailored to the needs of librarians in developing and transitioning countries.
To support librarians' mission (participation to the access to knowledge movement).
To help librarians answer copyright questions they face during their work.
To help librarians answer users' questions on their rights (professors, students, general public).
To empower librarians to advise governments and other public policy makers and initiatives toward balanced copyright law.
The project lead Melanie Dulong de Rosnay, Berkman Fellow, has been legal lead for CC France since 2003.. A meeting of international experts in libraries, copyright, distance learning and developing countries took place at the Berkman Center 17-18 April 2008 to provide advice on the structure, methodology and the content of the course as well as its sustainability.
How important is this and other collaborative relationships to your work? Are you reaching out to additional partners? What types of organizations are key to your efforts?
Collaboration is very important as our agenda and wishes are great and we can not accomplish everything by ourselves. There are certain movements and program areas that require strong advocacy, and for this, more voices are better. This applies to our activities in Open Access (OA), Intellectual Property (IP) and Free and Open Source (FOSS). Some of our programs are more advanced than others as we launched them in different years. Our newest program is on FOSS; we started it only last fall. We have quite a long list of NGO partners in IP, which were built due to our strong presence at WIPO. We are building more partnerships in OA and FOSS this year.
Iryna
Our target audience is scholars and researchers, doctors and lawyers, students and teachers. And in Open Access projects we set alliances with human rights groups, environmental organizations, patient groups demanding access to government information, Internet activists (Wikipedia communities, Creative Commons, etc.) modeling the approach of the Alliance for Tax Payers Access (a diverse and growing alliance of organizations representing taxpayers, patients, physicians, researchers, and institutions that support open public access to taxpayer-funded research). We are working closely with SPARC and SPARC Europe, EurOpenScholar, DRIVER project, Electronic Publishing Trust, BioLine International, Association of Research Libraries, Stichting SURF, Dutch collaborative organization for Higher Education and Research on IT, Directory of Open Access Journals, and we are also glad to start working with ccLearn and Creative Commons International (and iCommons).
Like ccLearn, eIFL is a project that is involved with the Open Education Movement. How would you define the Open Education Movement, and what role does eIFL play in it?
The goal of the Open Education movement is to create a world where each and every person on earth can access and contribute to the sum of all human knowledge. This goal can be reached by developing a vast pool of educational resources on the Internet, open and free for all to use. eIFL Open Access (OA) Program encourages sharing of research publications and educational materials.
Through the eIFL OA Program, eIFL members build capacity of the issues related to OA to enable members to benefit from the content, which is made freely available through OA, as well as ensuring that the local content produced within their countries is widely distributed. This is accomplished through the development of open repositories (for the research papers and educational materials) and by encouraging authors within the countries to publish their articles in Open Access journals. eIFL-OA Program seeks to enhance access and use of research findings, increase the efficiency of research developments, and accelerate use and innovation—stimulating the economy. To achieve this, we apply the developing practices of Open Access as defined by the Budapest Open Access Initiative (http://www.soros.org/openaccess/). The same practices became the foundation for the recently launched Cape Town Open Education Declaration: Unlocking the promise of open educational resources (http://www.capetowndeclaration.org/).
Among other things, ccLearn is focused on educating people about the importance of legal and technical interoperability for open education. What are your thoughts on this? What other activities do you think should be priorities for ccLearn (and Creative Commons) with respect to open education?
Yes, legal and technical interoperability is extremely important for open education. We encourage educators, scholars and students to use open technologies that facilitate collaborative, flexible learning and the open sharing. We advocate for Creative Commons Attribution Licenses used by a number of open access projects, e.g. The Public Library of Science (PLoS) – a non-profit organization of scientists and physicians committed to making the world's scientific and medical literature a public resource. Everything they publish is freely available online to read, download, copy, distribute, and use (with attribution) any way one wishes. Creative Commons did a lot for the free culture movements around the world. These approaches should be adjusted now for the educators and learners encouraging them to practice open education and raising their awareness about open content licences. Raising awareness and sharing good examples and advocacy are key elements to the success of the Open Education movement.
Comments Off
CC Salon San Francisco is going bi-monthly. The next Salon will be in February featuring speakers from Flickr and BitTorrent.
There's a close substitute in January. Check out NetSquared's Net Tuesday featuring the Public Library of Science, Tuesday, January 9 from 6-8PM at Citizen Space, 425 Second St., #300 in San Francisco:

This month our two presenters will be from PLoS, The Public Library of Science. PLoS is a nonprofit organization of scientists and physicians committed to making the world's scientific and medical literature a freely available public resource. PLoS is both an open-access advocate and an online publisher that publishes several peer-reviewed biomedical journals under the Creative Commons Attribution License. PLoS collaborates with Topaz in the development of open-source software to facilitate community-based annotation of scientific articles.
Addendum 2006-01-16: Presentation slides, audio, and an accompanying interview are now available.
Comments Off
Not quite, but gorillas have been observed using tools (a category that includes licenses and sticks) in the wild, as described in the widely publicized PLoS Biology paper First Observation of Tool Use in Wild Gorillas.
Congratulations to the Public Library of Science (and the gorillas). This would be a good time to note that PLoS has recently launched PLoS Computational Biology, PLoS Genetics, and PLoS Pathogens, adding to the existing PLoS Biology and PLoS Medicine, with PLoS Clinical Trials coming next year.
All PLoS journals publish cutting edge research under a Creative Commons Attribution License.
Visit our Science Commons site for more information on open access scientific publishing using Creative Commons licenses.
Comments Off
The Public Library of Science is a nonprofit organization dedicated to making the world's scientific and medical literature a freely available public resource. PLoS emerged in October 2000 through the effort of three dynamic and highly respected scientists: Nobel Laureate and former head of the National Institutes of Health Harold Varmus, molecular biologist Pat Brown of Stanford University, and biologist Michael Eisen of Lawrence Berkeley National Lab and UC Berkeley. This trio's dream, as the L.A. Times put it, is to build "a world in which the many thousands of scientific journals . . . are placed in an electronic library open to the public."
This week, PLoS moved closer to realizing this dream with the release of its first open access publication: PLoS Biology, a world-class, peer-reviewed scientific journal.
We had the opportunity to speak with Michael Eisen recently about the launch of PLoS Biology, its publication under a Creative Commons license, and its promise to transform open access models, the scientific community, and the world.
featured Public Library of Science work
PLoS Biology, Volume 1 Number 1
Attribution 1.0
[view articles]
Creative Commons: How did PLoS come into existence?
Michael Eisen: Science depends on the free flow of ideas and information. In the late '90s most of the research journals that scientists used to communicate with each other moved online. The technological change offered scientists myriad opportunities to expand and improve the ways we use scientific literature, and made it possible to bring our treasury of scientific information available to a much wider audience.
We grew increasingly frustrated that the publishers of scientific journals were blocking these advances by applying to their online journals business models developed for print publication — thus unnecessarily and unfairly restricting access to subscribers. We formed PLoS to promote and implement a better model for scientific publishing that offers anyone free and unrestricted access to scientific literature and facilitates the creative use of the knowledge it contains.
CC: What's the ultimate goal of the organization?
ME: Our goal is to see that every scientific and medical research publication is available free of charge for anyone to read, use, incorporate in databases, redistribute, etc. To do this we want to shift how the publishers are paid for the role they play in communicating scientific ideas and discoveries — to switch from a model in which publishers are given permanent, exclusive control over the scientific literature and allowed to charge for access to a model in which the literature is effectively placed in the public domain and publishers are paid a fair price for the service they provide in getting the literature there.
CC: Have you encountered any resistance from the scientific community?
ME: Most scientists agree strongly with the general principles we are advocating. What remains a challenge is convincing them that they should forego publishing in established journals to support our new model. Publication records play a major role in landing jobs, getting grants, and achieving tenure, and the more prestigious the journal, the better it looks on your resumé. Many scientists who support what we are doing perceive publishing in a new journal — no matter how much they agree with its principles — as a risky career move. This is why we have put a tremendous amount of energy into creating an open access journal — PLoS Biology — with the highest editorial and production standards that publishes outstanding works from all areas of biology. Once we have established PLoS Biology as a prestigious journal scientists will no longer feel they have to choose between what is right for them and what is right for science. They will get both in one place.
CC: What do you see as your role in changing the landscape of scientific journal publishing?
ME: We've all put a tremendous amount of time, effort, and energy into promoting the idea and importance of open access, and gathering support within the scientific community, publishing world, and public. Now we want to make it work. I publish the work from my lab only in open access journals. As a young scientist who is still not tenured, I think this serves as a role model for students and other scientists to see that you can have a successful science career without publishing your papers in Science, Nature, Cell or other prominent, fee-for-access journals.
CC: What are the benefits of open access scientific journals?
ME: First, if we succeed, everyone who has access to a computer and an Internet connection will have unlimited access to our living treasury of scientific and medical knowledge. This will be an invaluable resource for science education, will lead to more informed healthcare decisions by doctors and patients, and will level the playing field for scientists at small or less wealthy institutions and in the developing world by ensuring that no one will be unable to read an important paper just because his or her institution does not subscribe to a particular journal. Open access will also enable scientists to begin transforming scientific literature into something far more useful than the electronic equivalent of millions of individual articles in rows of journals on library shelves. The ability to search, in an instant, an entire scientific library for particular terms or concepts, for methods, data, and images — and instantly retrieve the results — is only the beginning. Freeing the information in scientific literature from the fixed sequence of pages and the arbitrary boundaries drawn by journals or publishers — the electronic vestiges of paper publication — opens up myriad new possibilities for navigating, integrating, "mining," annotating, and mapping connections in the high-dimensional space of scientific knowledge.
We hope to do for scientific literature what freely available archives of DNA sequences did for genetics. With great foresight, it was decided in the early 1980s that published DNA sequences should be deposited in a central repository, in a common format, where they could be freely accessed and used by anyone. Simply giving scientists free and unrestricted access to the raw sequences led them to develop the powerful methods, tools, and resources that have made the whole much greater than the sum of the individual sequences. If we succeed, we expect an even bigger creative explosion to be fueled by open access to the much larger body of published scientific results.
CC: Have you encountered any resistance from traditional journal publishers?
ME: A ton. Traditional publishers have not led the open access movement in any way. With a few notable exceptions, they've firmly resisted it. Scientific publishing as it exists today is an extremely lucrative business, and many publishers have placed their own narrow profit motive ahead of the good of the scientific community and the public. Even some nonprofits have stubbornly clung to the old publishing model to protect journal revenues that fund other activities. A major goal of PLoS is to prove to even the most reluctant publisher that open access is a viable way of publishing scientific journals and a viable economic model. Once this happens I suspect many publishers will respond positively either on their own or in response to the market pressure of scientists supporting the open access model.
CC: How broad-based is the open access movement among the scientific community?
ME: It depends on how you measure it. In terms of people who know about and support open access it's a broad movement. Over 30,000 people signed an open letter supporting PLoS. Although only about five percent of the papers published this year will be in journals offering something approximating open access, the numbers are rising quickly and open access is starting to take off.
CC: Do you see any parallels between access issues in scientific publishing and copyright in other areas?
ME: Authors of scientific papers assigning copyright to journals, thereby giving publishers ownership of scientific literature, is a central problem in scientific publishing today. The monopoly control enjoyed by publishers over specific publications allows them to charge exorbitant access fees to individuals and institutions that need access to this material — which they cannot get anywhere else.
Publishers often try to cast PLoS as being no different than file-sharers. While it is true that PLoS and groups like Creative Commons and the EFF are involved in trying to reform copyright, the peculiar nature of scientific publishing places PLoS largely above this fray. In the creative arts, copyright protects the rights of content producers who need to make money from their song, book, or film, and there is a fundamental tension between the producer's interest to profit from their labor and the consumers' desire to get it as cheaply as possible.
In scientific publishing this tension is nonexistent. First, the producers and consumers of information are largely the same people. And, second, scientists don't make money from the sale of their work. In scientific publishing today, copyright is used almost exclusively as a means to restrict access to information. Copyright protects the interests of publishers and the works they publish, and not the rights of scientists.
In fact, the way that publishers wield copyright actually weakens authors' protection against misuse of their works. While copyright offers some legal protection against plagiarism, there are few cases in which copyright has been used to prosecute plagiarists. The real protection against plagiarism in scientific publishing comes from a scientific culture that does not tolerate these practices — scientists' careers are ruined when it is discovered that they have stolen someone else's work. Therefore the best protection against plagiarism is detection, and detection is infinitely easier when the original is freely available.
It's important to view the issues in scientific publishing in light of the other issues going on in copyright, but the issues are very different. Scientific works don't have an isolated meaning; they exist only in reference to the broader scientific community, and the whole reason you publish them is so that other people will read and use them. If research is paid for by the public through a federal agency or public-minded institution, it's likely the scientists doing the research are public-minded people interested in producing public knowledge. If the product of that research doesn't belong in the public domain, then the public domain doesn't have any meaning.
CC: Why did you decide to use Creative Commons licenses?
ME: Creative Commons and PLoS share the common goal of strengthening the science commons, and we want to take advantage of all the work Creative Commons and the growing number of Creative Commons license users are doing to create, defend, and internationalize licenses that define the commons.
We chose the attribution license because it ensures the optimal accessibility and usability while preserving the one thing that scientists value the most: attribution for their work.
Comments Off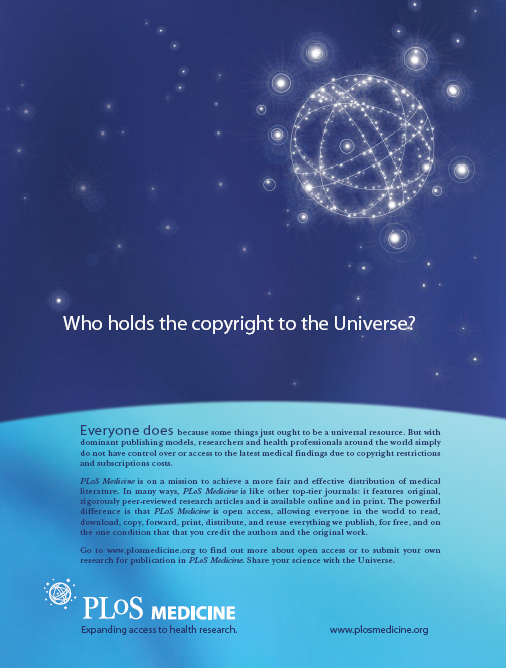 Back cover of the inaugural issue of PLoS Medicine.
Yesterday the Public Library of Science released the first issue of their second journal, PLoS Medicine. All articles are available under the Creative Commons Attribution License.
Open Access News covers reactions to the new journal with several posts over the last few days. Also see our feature interview with PLoS from last year.
Comments Off